In an effort to streamline travel processes and alleviate the burden on its visa caseload, Canada has announced visa-free travel for passport holders from 13 countries.
Sean Fraser, the Minister of Immigration, Refugees and Citizenship, earlier this month made this announcement.
Minister Fraser highlights the efforts of Immigration Refugees and Citizenship Canada (IRCC) in simplifying and expediting the pre-travel screening process. This decision is expected to divert a significant number of applications from Canada's visa backlog, thereby enhancing the efficiency of visa processing.
Visa-Free Travel for 13 Countries
According to the announcement made by Canada, eligible travellers from the selected countries will now be able to enter Canada by air without the requirement of a Temporary Residence Visa (TRV).
The eligible countries include:
Philippines
Morocco
Panama
Antigua and Barbuda
St Kitts and Nevis
St Lucia
St Vincent and Grenadines
Trinidad and Tobago
Argentina
Costa Rica
Uruguay
Seychelles
Thailand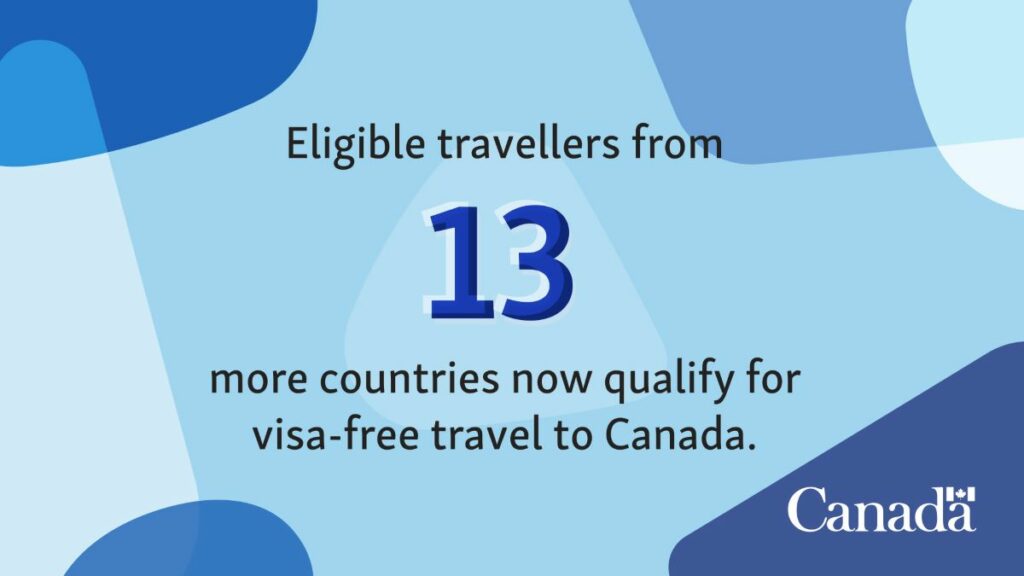 Latest Update: Canada Introduces New Work Permit for US H-1B Visa Holders
Eligibility Criteria
However, to be eligible for visa-free travel to Canada, travellers must meet the following requirements:
They must have either held a Canadian visa in the last 10 years or currently hold a valid United States non-immigrant visa.
They must be passport holders from one of the eligible countries.
They must not have any criminal convictions.
They must have a valid passport that is valid for at least 6 months beyond the intended date of travel to Canada.
Must Read: 5 Steps to Take If Your Canada Visa Application is Delayed
Benefits
The visa-free travel program will offer a number of benefits to both Canada and the eligible countries. For Canada, the program will help to attract more visitors from eligible countries, which will boost the economy.
For the eligible countries, the program will make it easier for their citizens to travel to Canada, which will promote tourism and business opportunities.
Understanding Visa Requirements
1. Visa-Free Travel to Canada: Over 50 countries currently allow their citizens to enter Canada without a visa, provided they obtain an Electronic Travel Authorization (eTA) when arriving by air.
2. Exceptions for United States Citizens: United States citizens are exempt from requiring an eTA or visa to enter Canada unless they intend to work or study in the country.
3. Temporary Residence Visa (TRV): Nationals of non-exempt countries must apply for a TRV, also known as a visitor visa, to visit Canada. A TRV allows individuals to stay in Canada for up to six months, although this may vary for certain foreign nationals.
How to Apply
Eligible travellers who wish to travel to Canada under the visa-free travel program must apply for an Electronic Travel Authorization (eTA). The eTA is a travel authorization that allows eligible travellers to fly to Canada without a visa.
To apply for an eTA, travellers must visit the IRCC website and complete an online application form. The application form requires travellers to provide their personal information, passport information, and travel plans.
Gather your passport, credit or debit card, and read the help document.
Complete the online application form. The form cannot be saved, so have your information ready.
Pay the CAD$7 application fee.
Check your email for an update on your application. Most applications are approved within minutes.
If you need to submit additional documents, you will receive instructions within 72 hours.
The eTA application fee is CAD$7, and the application process typically takes a few minutes to complete.
Conclusion
By introducing visa-free travel for passport holders from 13 countries, Canada aims to enhance the efficiency of its immigration processes and provide greater convenience for eligible travellers.
This initiative aligns with the government's commitment to fostering international relationships and facilitating tourism while ensuring the integrity and security of its borders.