We all have got a lot on our plate lately and what better time to unwind a bit than the month of November. With the monsoon taking the exit door and the arrival of winters, November also marks various festivals and fairs at various places across India and to the addition Diwali (festival of lights) falling in the month.
But choosing something particular among the best places to visit in India can be a tough nut to crack as India is a diverse land of culture, heritage, historical places, mountains, beaches, and a lot more but you can just sit back and relax because we got your back in that part.
Be it your adrenaline rush for some extreme sports or a peaceful vacation around a beach or in mountains or your soul searching at a divine destination, we have got everything covered for you.
Here is a list of the Best Places to visit in November
1. Goa
Believe it or not, but one of the first places that strike our mind as soon as we think about vacation, it is Goa. And why not? Goa seems to cast a spell on all of us with its culture. But a lesser-known fact that with all the hippie culture and the best nightlife that it offers, it is also a well known UNESCO world heritage site, which is a well-deserved title for all the old Portuguese style heritages in the old Goa. So on your next trip to Goa apart from enjoying the beaches, shacks and casinos do not forget to explore the heritage part of Goa.
How to reach Goa: Goa have well connected airport and railway station.
Main attractions of Goa: Basilica of Bom Jesus, Dona Paula, Aguada fort, Our lady of Immaculate Conception, Goa state museum, Se Cathedral, Church of St. Francis of Assisi, Anjuna beach, Baga beach, Calangute beach, Harvalem waterfalls
What to do in Goa: Travel below Dudhsagar falls by train, hike to the Harvalem waterfalls, snorkeling, dolphin watching, shop at local flea markets, dine at shacks, water sports, casinos, Goa on rented bikes, enjoy nightlife at clubs, casinos, bars
Main delicacies of Goa: Seafood, Bebinca, Perad, Kulkul, Sannas, Goan Khatkhate, Patolea, Sorak, Cashew nuts
Temperature range of Goa in November: High 33°C, Low 20°C
2. Kutch, Gujarat
One of the finest places to visit in the winters in India, Kutch is an epitome of surrealism with its vast white salt desert. November marks the commencement of the Rann Utsav festival in Kutch from 1st November 2020 to 28th February 2021 which is a once in a lifetime experience.
The time when you feel the true essence of Gujarat and its culture. From watching the shimmering white dessert in the full moon to shopping for some handicrafts a festival can't get this extraordinary.
You can indulge yourself in various activities like rifle shooting, stargazing, meditation, sightseeing, paramotoring, and a lot more. Kutch and the Rann Utsav are going to stay with you forever.
How to reach Kutch: Nearest airport Bhuj airport is 70kms, Nearest railway station is Kutch
Main attractions of Kutch: Aaina Mahal Palace, Kalo Dungar, Rann of Kutch, Mandvi beach, Harmirsar lake, Bhujio hill, Prag Mahal, Wild Ass Sanctuary, Swami Narayan Mandir
What to do in Kutchi: Watch cultural heritage and performances, Jungle safari, Birdwatching, Sightseeing, Activities at Rann Utsav, Watch Rann of Kutch in the full moon, dress like locals, stay at Kutchi home, shop for traditional stuff
Main delicacies of Kutch: Kathiyawadi Thali, Kutchi Dabeli, Locho, Thepla, Lilva Kachori
Temperature range of Kutch in November: High 31°C, Low 14°C
3. Pushkar, Rajasthan
Pushkar in November hosts one of the most beautiful, famous, and prestigious Pushkar fair or Pushkar Camel fair(22nd November 2020 to 30th November 2020) which attracts tourists from all over the world due to its cultural, ethnic, traditional authenticity.
On the banks of Pushkar Lake, Pushkar fair depicts the most colorful and enthusiastic days for Pushkar where you can see the trading of livestock, various competitions like longest mustache, camel decoration, cricket and a lot more, shop for traditional vibrant attires, jewelry, handlooms, and obviously the world-renowned Rajasthani vibes.
How to reach Pushkar: Nearest airport Sanganer airport is 150kms, Nearest railway station Ajmer is 15kms
Main attractions of Pushkar: Pushkar lake, Bramhaji Temple, Pushkar adventure camp, Varaha Temple, Merta, Rose garden, Man Mahal
What to do in Pushkar: Sightseeing, Shopping, Hot air ballooning, Camel safari, Hike Savitri Temple, Eat at Out Of The Blu Cafe
Main delicacies of Pushkar: Khasta Kachori, Dal Baati Churma, Samosa, Malpua, Jalebi Rabdi, Poori Aloo, Makhaniya Lassi, Rajasthani Thali, Poha Pizza Pakwaan at Pushkar Breakfast Corner
Temperature range of Pushkar in November: High 29°C, Low 13°C
4. Hampi, Karnataka
An exhibition of the culture and the history of the Hampi a UNESCO world heritage site and once the capital of the Vijayanagara empire can be seen at the Hampi Festival aka Vijaya Festival which is usually celebrated in the first week of November for three days making it one of the most divine places during that time. The festival consists of some extravagant events like folk music and dance shows, puppet shows, fireworks, processions, and a lot more. Apart from the festival, Hampi most certainly is the favorite and popular historic place in India because of its past, architecture, and archaeological remains as well as the religious values that still prevail.
How to reach Hampi: Nearest airport Hubli airport is 167kms, Nearest railway station Hospet junction is 13kms
Main attractions of Hampi: Sree Virupaksha Temple, Matanga Hill, Hemakuta hill Temple, Hampi Archaeological ruins, Lotus Mahal, Royal Enclosure, Underground Temple, Monkey Temple, Sasivekalu Ganesha, elephant stables
What to do in Hampi:  Watch Sunset from Hemakuta hills, cliff jumping, swimming, bathe Laxmi in Lotus hall complex, explore the locale, stay in boulders
Main delicacies of Hampi: South Indian food, Biryani, Continental at Mango tree restaurant
Temperature range of Hampi in November: High 30°C, Low 18°C
5. Coorg, Karnataka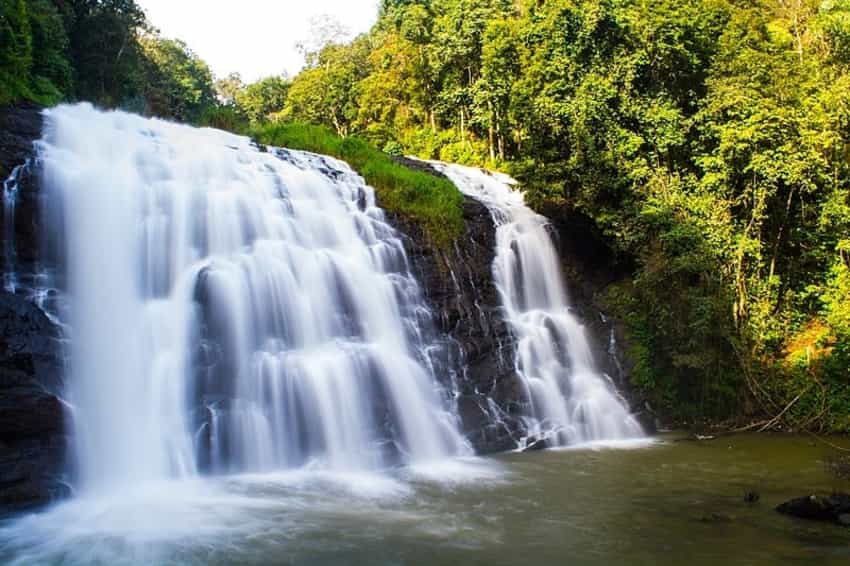 If you are planning a vacation in the lap of nature you cannot get anything better than Coorg rightly termed as the "Scotland Of India". Framed by the Western ghat mountain ranges set amid the lush mountains and the misty landscapes, it will make you keep asking for more. And it's not just the scenic beauty of Coorg in November but also the Puthari Harvest Festival that attracts the tourist because of its serenity and making Coorg one of the most divine places.
How to reach Coorg: Nearest airport Bangalore airport is 260kms, Nearest railway station Mysore station is 120kms
Main attractions of Coorg: Abbey Falls, Iruppu Falls, Namdroling Monastery, Raja's seat, Mercara Downs Golf Club, Dubare Elephant camp, Mandalpatti, Brahmagiri peak, Mallalli falls
What to do in Coorg: Walk around Chikli hole, bathe elephants, coffee and wine tasting, ayurvedic massage, camping, river rafting, hike or trek and you can find some undiscovered beautiful scene or secret waterfalls, quad biking
Main delicacies of Coorg: Bylakuppe, Kadambattu, Bamboo shoot curry, Pandi curry, Akki roti, Koli curry, puttu, kachampuli and obviously COFFEE
Temperature range of Coorg in November: High 26°C, Low 8°C
6. Varanasi, Uttar Pradesh
Varanasi is one of the most sacred and holy places in the world and even one of the oldest cities in the world too also promoted as the Cultural Capital of India. Situated in the divine banks of the river Ganges, it hosts the significant Ganga Mahotsav at the end of November, and with Diwali falling in the same month, you do not want to miss vacationing at this place. The five days Ganga Mahotsav is a true find for the seeker of Indian culture and craftsmanship which is celebrated with cultural performances by some legendary artists like Birju Maharaj, Zakir Hussain, Kailash Kher. You can witness the Maha Aartis of the river Ganges and the staircases lit with the countless diyas  which feels no less than the stars on the ground and is enough to shake your soul to the core.
How to reach Varanasi: Varanasi have well connected airport and railway station.
Main attractions of Varanasi: Shri Kashi Vishwanath Temple, Dashashwamedh Ghat, Manikarnika Ghat, Assi Ghat, Ramnagar Fort, Dhamekh Stupa, Chaukhandi Stupa
What to do in Varanasi: Bathe in the River Ganges, Attend Ganga Maha aartis, take spiritual tours, early morning boat rides, shop at local markets
Main delicacies of Varanasi: Kachori Sabzi(Kaleva), Chena Dahi Vada, Malaiyyo, Choora Matar, Thandai and Lassi, Gol Gappe with Dahi and chutney, Laaiya Chana, Litti(Baati) Chokha, Tamatar chaat
Temperature range of Varanasi in November: High 28°C, Low 15°C
7. Amritsar, Punjab
Amritsar is full of tourists and Pilgrims all around the year because of the Golden Temple and the Amritsari food and of course the Sikh community that does the value addition to make Amritsar one of the best places to visit in India in November. But, November is a special month as Guru Nanak Gurupurab falls in it (30th November 2020). The Golden Temple and the whole city is decorated with lights and flowers and the celebrations start early in the morning with Kirtans and Gurbani's recitation, Guru Granth Sahib is read, Langar(food) is organized. Nothing can be as magical as this. Other than this Amritsari food is one of the best in the world so don't miss it at any cost. Amritsar in November is a treat to your eyes, taste buds, and your soul in a true sense.
How to reach Amritsar: Amritsar have well connected airport and railway station
Main attractions of Amritsar: Golden Temple, Akal Takht, Partition museum, Jallianwala Bagh, Central Sikh Museum
What to do in Amritsar: Eat local food, Take Amritsar Heritage Walk, Eat Langar at Golden Temple
Main delicacies of Amritsar: Amritsari Kulchas, Chole puri and Pinni, Lassi, Langar, and Karah prasad, Makki di roti and Sarson da saag, Maa ki dal, Amritsari Fish Tikka, Ghee roast chicken, Mutton Chaap, soya Chaap, kulfis, jalebis (This list is seriously endless)
Temperature range of Amritsar in November: High 29°C, Low 9°C
8. Gir, Gujarat
The Gir Wildlife Sanctuary is the only place where you can witness the Asiatic lions in their natural habitat and November is considered as the best time for the same. It was made to safeguard the population of these beasts as they were decreasing drastically because of illegal hunting and poaching but with constant and significant efforts of the government it has been brought in control and there has been a growth in the numbers of lions as well. Gir is definitely worth the visit if you have an eye for nature and wildlife.
How to reach Gir: Nearest airport Keshod airport is 87kms, Nearest railway station Veraval junction is 75kms
Main attractions of Gir: Kamleshwar Dam,  Jamjir Waterfall, Rasulpara-Gir, Gir wildlife sanctuary
What to do in Gir: Explore wildlife, witness Asiatic lions, bird watching, forest safari
Main delicacies of Gir: Gujarati thali, Gujarati food
Temperature range of Gir in November: High 22°C, Low 10°C
9. Ziro, Arunachal Pradesh
Surrounded by the pine hills and the rice fields, Ziro valley is one of the most peaceful and enchanting places to visit in India if you are looking for some time to yourself. It is home to various tribal groups and its atmosphere and scenic beauty make it a beautiful peaceful paradise.
How to reach Ziro: Nearest airport Johrat airport is 194kms, Nearest railway station Naharalagun railway station is 99kms
Main attractions of Ziro: Tarin Fish farm, Talley valley wildlife sanctuary, Meghna cave, Dolo Mando, Pine grove, Midey
What to do in Ziro: Trekking, Hiking, Road drives, sightseeing, explore the tribal culture in Apatani village
Main delicacies of Ziro: Bamboo shoot, Pika Pila, Apong, Lukter, Pehak, Marua, Chura Sabzi, Momos
Temperature range of Ziro in November: High 23°C, Low 8°C
10. Bir Billing, Himachal Pradesh
If you want to satisfy the adventurer in you and live through the adrenaline rush then one of the most adventurous places to visit in India to head to is the Paragliding capital of India, Bir. Right after the monsoon season that has flourished the flora and fauna, Bir comes out of the offseason of the adventure sports and also is a sight to behold. With paragliding you can go for trekking, camping, mountain biking, hand gliding, and apart from the adventure sports you can indulge yourself in exploring the Deer Park Institute, a center for Indian tradition wisdom patronage by Dalai Lama, or spend time at Himalayan Film School, take leisure walks around lakes or go shopping in local markets. From scenic beauty to adventure sports, from peace to adrenaline rush, Bir has a lot to offer.
How to reach Bir Billing: Nearest airport Gaggal airport is 68kms, Nearest railway station Bajinath Paprola railway station is 13kms
Main attractions of Bir Billing: Adventure sports, Deer park institute, Peme Awam Choegar Gyurme Ling Monastery, Bir Billing Road, Hanuman Garh, Bangoru waterfall, Rajgundha Trek
What to do in Bir Billing: Paragliding, trekking, camping, shopping, hand gliding, travel by toy train, mountain biking, spa with Arya marga, take a tour of Bir tea factory, explore Tibetan colony, visit tea gardens
Main delicacies of Bir Billing: steamed and fried momos, thukpa, Himachali Siddu, hot chocolate at June 16 cafe, banoffee pie at silver linings cafe, must try the cafe Kaafila
Temperature range of Bir Billing in November: High 19°C, Low 8°C
So which place is going to be your getaway?
FAQs
What countries are best to visit in November?
1. Lisbon, Portugal
2. Iceland
3. Egypt
4. Dubai
5. Cuba
6. Bhutan
7. Mauritius
8. Nepal
9. Cairo
10. Budapest
Where can I get sun in November?
1. Maldives
2. Bermuda
3. Cyprus
4. Canary Island
5. Bora Bora
6. Australia
7. Oman
8. Seychelles
9. India
10. Bahamas
What is the cheapest month to travel?
According to the accumulative data calculated in the Tourism Industry, January, February and September are probably the cheapest month to travel.
Where should I go in November 2020?
1. New York City
2. Santa Fe, New Mexico
3. La Romana, Dominican Republic
4. North India
5. Oracabessa, Jamaica
6. Hawaii
7. Athens
8. Copenhagen
9. Patagonia
10. Antarctica
What is the cheapest city in Europe to fly into?
Dublin in Europe is the cheapest airport to fly into with an average airfare of $620.
Also Read: Best Places To Visit In India After The Coronavirus Pandemic