The Govt of Bahrain has updated its entry procedures for international travelers arriving or passing through Bahrain. As per the new updates, passengers traveling to the Kingdom of Bahrain are now not required to show a negative RT-PCR test before their departure.
However, they still need to undergo a mandatory Covid-19 test upon their arrival at the Bahrain International Airport.
These new entry procedures have come into effect starting from 12am on Friday, 4 February 2022, and are applicable for all travelers arriving in the Kingdom of Bahrain aged 6 years and above.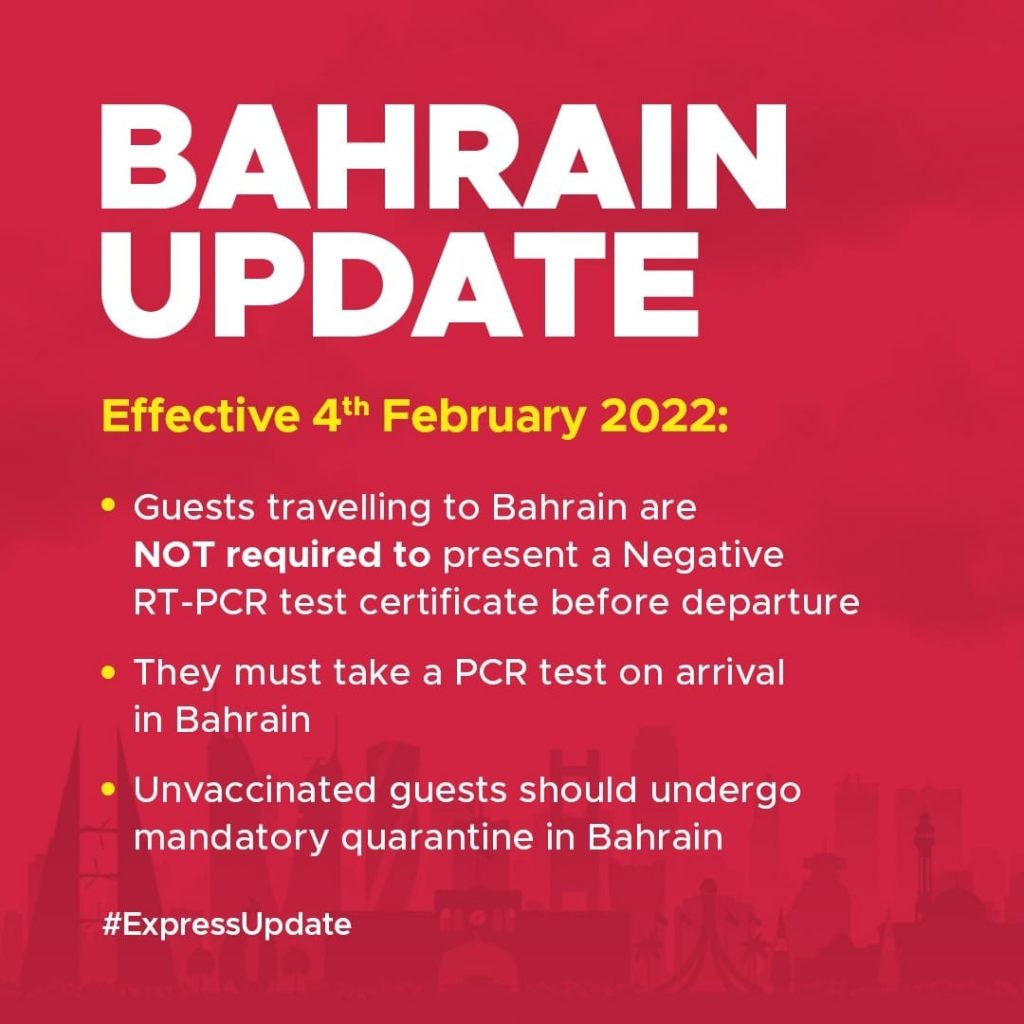 It may be noted that recently recovered passengers (age 6 years and above) are not required to present a negative PCR test before departure. In lieu of a negative PCR test, passengers who have recently recovered from a COVID-19 infection can present documentary proof in the form of a recovery certificate or a positive PCR test taken no later than 14 days prior to departure and no earlier than 30 days prior to departure. Passengers are still required to undergo a PCR test on arrival in Bahrain.
Please Note:
Passengers vaccinated in Bahrain are considered fully vaccinated if they have the green shield on the Be Aware Application.
Passengers not vaccinated in Bahrain are considered fully vaccinated if they have completed 14 days after administration of the second dose in a two-dose vaccination series or completed 14 days after administration of a single dose for single-dose vaccines, and present valid proof of vaccination.
The following vaccination certificates are accepted as valid proof of vaccination:
Certificates issued by GCC countries
Certificates issued by countries with which Bahrain has signed a mutual vaccination recognition agreement, certificates issued by countries whose citizens are eligible for a visa on arrival (passenger must be a national of the issuing country) (https://www.evisa.gov.bh/list-of-onarrival-visa-country.html)
Certificates with a QR code issued by any country for vaccines approved for use by the World Health Organization (WHO) or the Kingdom of Bahrain (URL list of Vaccines).
Passengers are considered recovered if they have recovered from a COVID-19 infection within 8 months of their arrival in Bahrain and present documentary proof of recovery issued by a competent health authority
Unvaccinated passengers must:
Undergo a PCR test upon arrival in Bahrain
Quarantine for a period of 7 days at their residence or hotel (passengers below the age of 12 are exempt from this requirement).
Cost of Vovid-19 Test In Bahrain
The cost of testing is a BHD 12 fee (approximately USD 32). Passengers are encouraged to submit the payment before their arrival to Bahrain through the BeAware App or the Bahrain eGovernment Portal (bh.bh/covidpay).
Passengers can also submit payment upon arrival at one of the designated payment kiosks in the airport terminal both card and cash payments are accepted at the kiosks.