West Bengal's Bagdogra airport located in the western part of Siliguri, will be closed for airline operations for 15 days until April 25 for extensive repairs and resurfacing works on the sole runway.
The runway has been prone to deterioration and has resulted in the airport being temporarily shut down on multiple occasions in recent weeks.
In mid of March, the flight operation was halted and as many as 21 flights were cancelled after runway damage was observed. However, the flight operation was streamlined from the next day.
Subramani P, Director, Bagdogra Airport said;
"The airport will be closed for operations from April 11 to April 25 due to resurfacing work of the final layer of the flexible portion of the runway. The IAF had been working on the repair work of the runway at night for the last two years and hence flights were operating till 6 pm. Now the work will be done in the final layer and is likely to be completed within 15 days."
"Both the ends of the runway have been completed now we are left with the middle portion of the runway hence the closure. Once the work is completed, we will be able to operate more flights and the timing of operation will also be extended."
Airlines Cancelled Flights To/From Bagdogra
IndiGo and SpiceJet, two Indian low-cost carriers, have cancelled flights to and from Bagdogra Airport between April 11 and April 25, 2022. In addition, both airlines are providing affected customers with complimentary rescheduling and change options.
"Runway at Bagdogra Airport will remain completely closed for re-carpeting from 11th April 2022 to 25th April 2022. In view of this changes in our schedule are expected. Kindly re-confirm the departure/arrival date and time of flight to/from Bagdogra." said IndiGo in a trade circular.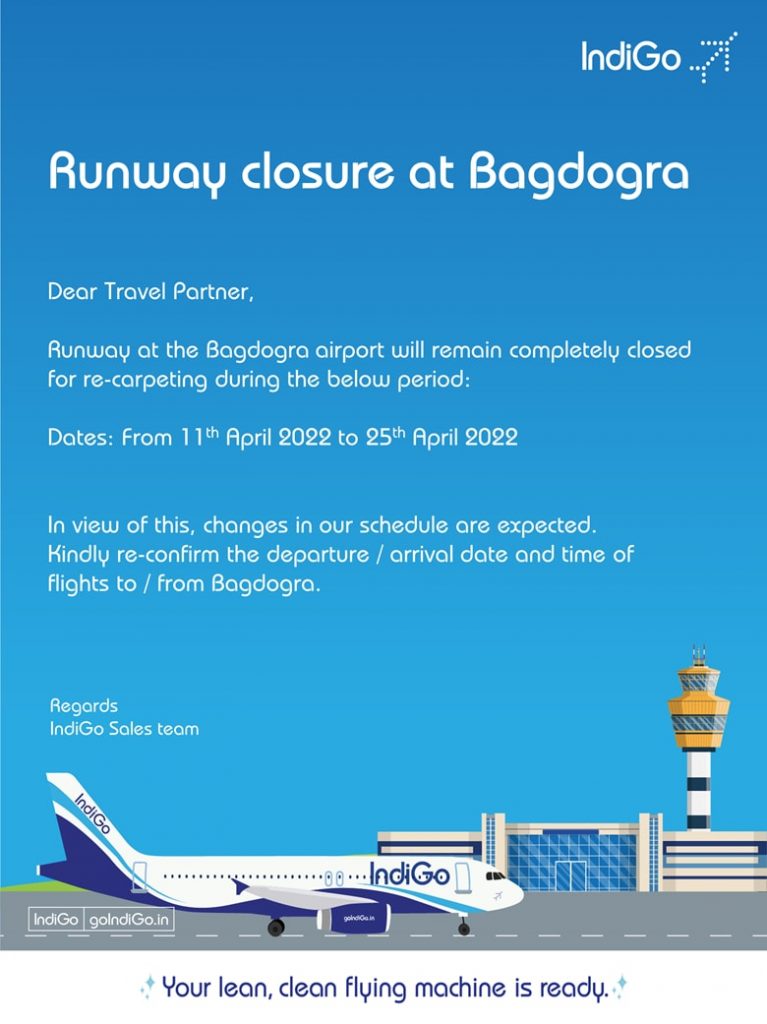 Travel Plans Affected
Bagdogra airport used to handle as many as 56 flight movements and approximately 10,000 passengers per day.
Bagdogra airport serves as a civil enclave for the Indian Air Force's AFS Bagdogra. It also serves as a gateway airport to the hill stations of Darjeeling, Gangtok, Kurseong, Kalimpong, Mirik, and other regions of the North Bengal region, with thousands of tourists passing through each year. The airport stands as an important transportation hub in the area.
Because the airport is a significant transportation hub in the region and a gateway to a number of tourist spots in the area that are popular with visitors during the summer season, it is expected that this will have an impact on many people's travel plans.