American Airlines and IndiGo, India's leading carrier, have implemented the extensive codeshare agreement announced in September 2021 and were in waiting for approval from the relevant authorities.
As the codeshare comes into effect, IndiGo has begun using American Airlines' code on 29 of its domestic Indian routes, giving a handy choice for American Airlines passengers coming on the carrier's Bengaluru (BLR) and Delhi (DEL) flights.
According to a statement, "American and IndiGo plan to expand the codeshare in the near future to include more than a dozen additional destinations in India (in addition to Bengaluru and Mumbai)."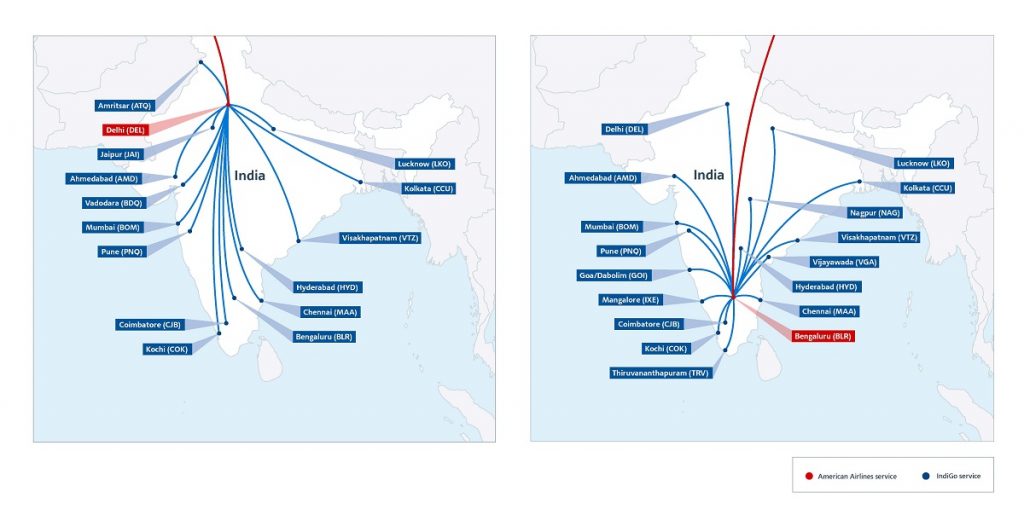 At present, American Airlines only operates flights between New York and Delhi. American Airlines and IndiGo announced their agreement to codeshare in September of last year.
As the codeshare agreement begins, members of American's AAdvantage® loyalty program will earn miles when travelling on American codeshare flights operated by IndiGo.
Customers who aren't yet members of the award-winning AAdvantage program can enrol online and enjoy immediate benefits such as Group 6 boarding on flights operated by American Airlines.
"IndiGo is a premier Indian carrier and through our codeshare agreement, customers can book travel on IndiGo via Delhi to and from two of India's most popular destinations, Bangalore and Mumbai," said Anmol Bhargava, Vice President of Global Alliances and Partnerships, American Airlines.
IndiGo, India's largest airline, has already signed codeshare agreements with Qatar Airways, Turkish Airlines, and Air France-KLM.
---
Follow and connect with us on Facebook, Twitter, Linkedin, Instagram and Google News For the latest travel news and updates!
---