AirAsia, a Malaysian multinational low-cost airline on Wednesday announced that it will resume its international flight operations between India and Malaysia & Thailand, with flights beginning in April and May. The announcement comes after India restarted scheduled international flights on March 27 after a two-year ban due to coronavirus.
AirAsia in a press release said that its scheduled operation between Malaysia and six Indian destinations will gradually resume in April 2022, while the airline has a plan to resume flights to Thailand from 5 Indian cities effective May 2022.
AirAsia Flights From India to Malaysia And Thailand
As per the details shared by the airline, it will start operating on six new routes from India to Malaysia which includes; 
Bengaluru – Kuala Lumpur from April 01
Chennai – Kuala Lumpur from April 1
Tiruchirappalli – Kuala Lumpur from April 5
Kochi – Kuala Lumpur from April 18
Kolkata – Kuala Lumpur from April 23
Hyderabad – Kuala Lumpur from May 1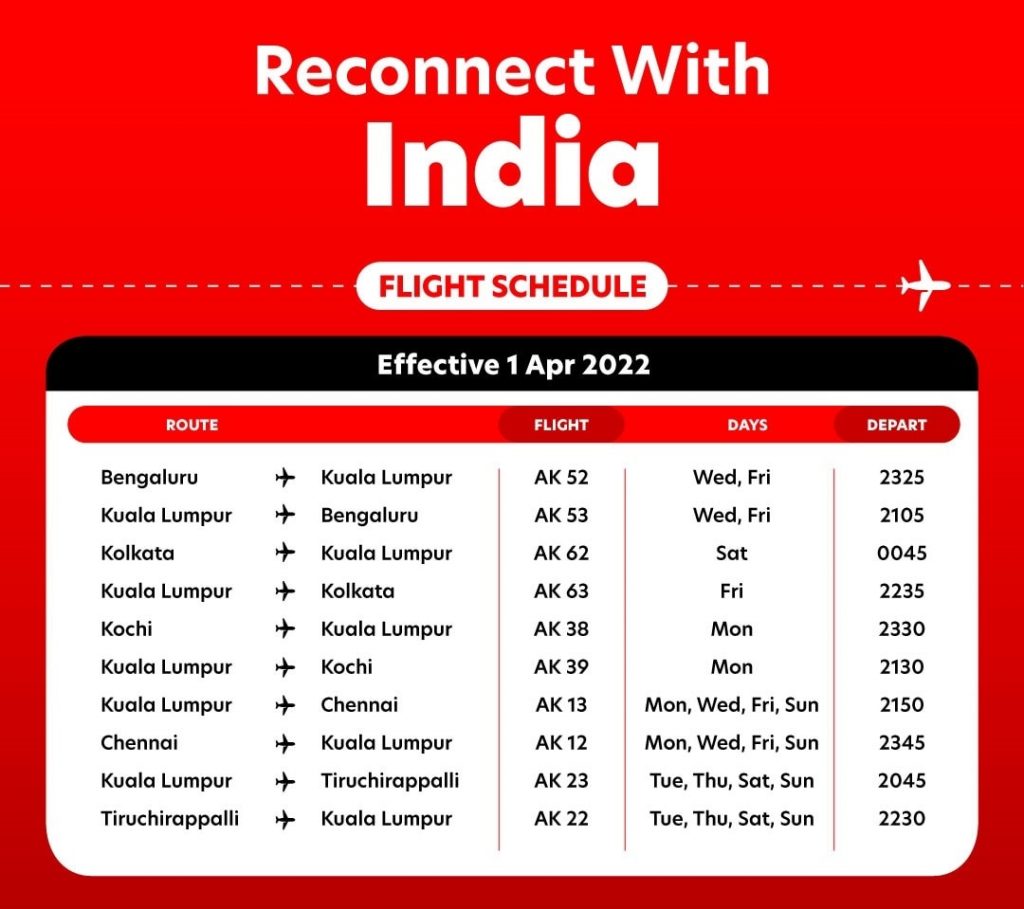 Similarly, the airline will launch five new routes from India to Thailand including;
Bengaluru-Bangkok (Don Mueang) commenced on May 4
Chennai-Bangkok (Don Mueang) on May 4
Kolkata-Bangkok (Don Mueang) from May 2
Kochi-Bangkok (Don Mueang) from May 1
Jaipur-Bangkok (Don Mueang) also from May 1
It is worth noting that both countries have recently relaxed travel requirements and quarantine rules; comprehensive travel advice for Malaysia and Thailand can be found at the links below.
Travellers can also get a 20% discount on All Seats and on all flights if they book between April 4 and 10, for travel between May 1 and March 25, 2023.
(AirAsia is different from AirAsia India, which is based in India and is owned by the Tata group.)
Manoj Dharmani, AirAsia's regional commercial head for India, Sri Lanka and Bangladesh, said;
"AirAsia's resumption of international flights has been highly anticipated by both the airline and its guests. With Malaysia and Thailand reopening and travel restrictions being lifted, AirAsia will be continually re-introducing international services, starting from April 2022."
"In this regard, India, Malaysia, and Thailand are countries with significant potential in terms of stimulating tourism and reigniting the economy. We believe that our flight resumption will bring great opportunity and support to the countries' economic recovery."
---
Follow and connect with us on Facebook, Twitter, Linkedin, Instagram and Google News For the latest travel news and updates!
---