Indian national carrier, Air India on Wednesday announced that it will be operating additional flights between India and Australia under the air bubble arrangements starting January 2022.
The announcement comes after the Ministry of Civil Aviation (MoCA), India has signed an Air Bubble Agreement with Australia earlier this month.
As per the announcement made by Air India, it will be operating flights between Indian capital New Delhi and Australian cities Melbourne, Sydney starting from 02nd Jan 2022.
Air India Additional Flights Between India-Australia
Between Delhi and Melbourne, the airline will operate one weekly flight every Sunday starting from 2nd January to 27th March 2022; While on the Delhi-Sydney-Delhi sector Air India will operate every Monday, Tuesday effective from 3rd January to 22nd March 2022.
Flight Bookings Not Started
The airline in a social media post said that the bookings for these additional flights are open and can be booked through the official website of Air India Website, Booking Offices, Call Centre & Authorized Travel Agents.
However, when our team checked for the same we found that the bookings are not yet opened by Air India!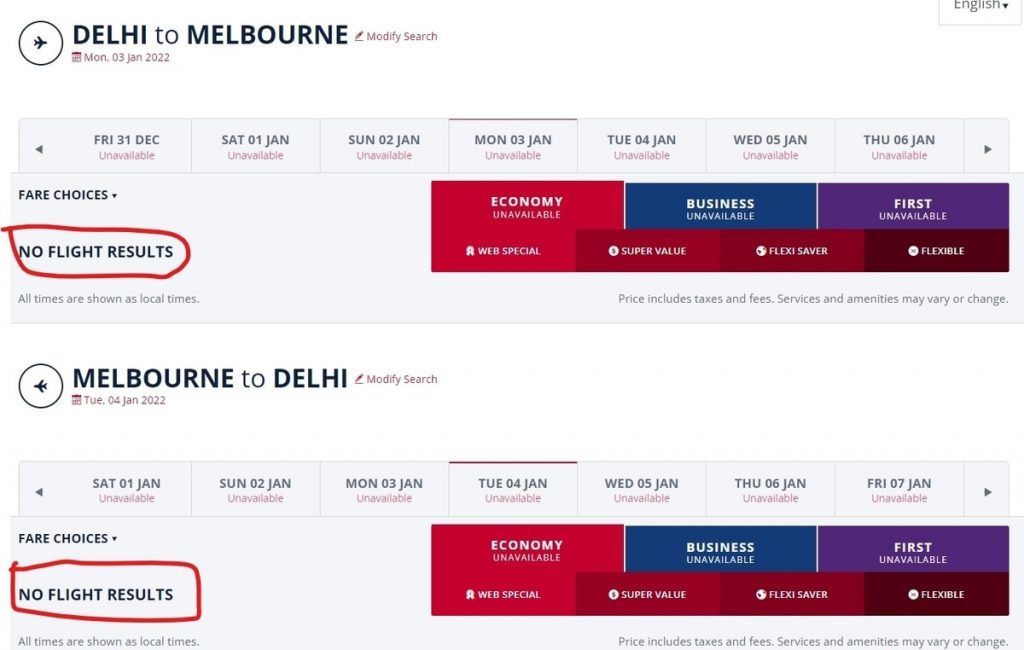 Air India also advised its passengers to must go through the guidelines carefully before traveling & conform to all eligibility criteria, As it will not accept any liability in this regard.
Qantas Starts Flight Operation To/From India
It is worth mentioning here that, recently, Qantas has launched commercial flight services to India after nearly ten years and operated first flights from Sydney to Delhi.
The flight from Sydney to Delhi has operated via Adelaide, while the return flights from Delhi to Sydney have operated as nonstop flights.
Moreover, Qantas has also started the brand-new international route from Melbourne to Delhi starting from 22 December 2021, connecting Victoria to the Indian capital on a Qantas-operated flight for the first time in the airline's history.