As the holiday season approaches a new in-flight menu was introduced by Air India on Saturday, October 01 on domestic routes as part of efforts to upgrade services and expand its fleet in the domestic market.
The loss-making airline has been working to increase its overall market share in the quickly expanding domestic aviation market since being acquired by Tata in January of this year.
Sandeep Verma, the Head of Inflight Services at Air India said;
"The new menu choices have been curated to ensure that the flyers enjoy a gourmet meal with an emphasis on health and well-being… We are excited to roll out this new menu on domestic routes and are hard at work preparing a revamp of the international menu as well."
Also Read: Air India Announced 20 Additional Weekly Flights to the UK And US
According to a press release, the new in-flight menu, which includes a variety of gourmet meals, trendy appetisers, and decadent desserts, highlights India's locally sourced culinary influence.
Air India Business Class Inflight Menu
Buttery and Flaky Croissant, Sugar-free Dark Chocolate Oatmeal Muffin, Aloo Paratha, Medu Vada and Podi Idly for breakfast, Fish Curry, Chicken Chettinad, Serving Chicken 65, Grilled Sliced Pesto Chicken Sandwich, Mumbai Batata wada for high-tea.
Air India Economy Class Inflight Menu
Dry Jeera Aloo Wedges, Garlic Tossed Spinach and Corn for breakfast, Vegetable Biryani, Malabar Chicken Curry, Mixed Vegetable Poriyal for lunch, Vegetable Fried Noodles, Chilli Chicken, and Blueberry Vanilla Pastry, Coffee Truffle Slice for high tea.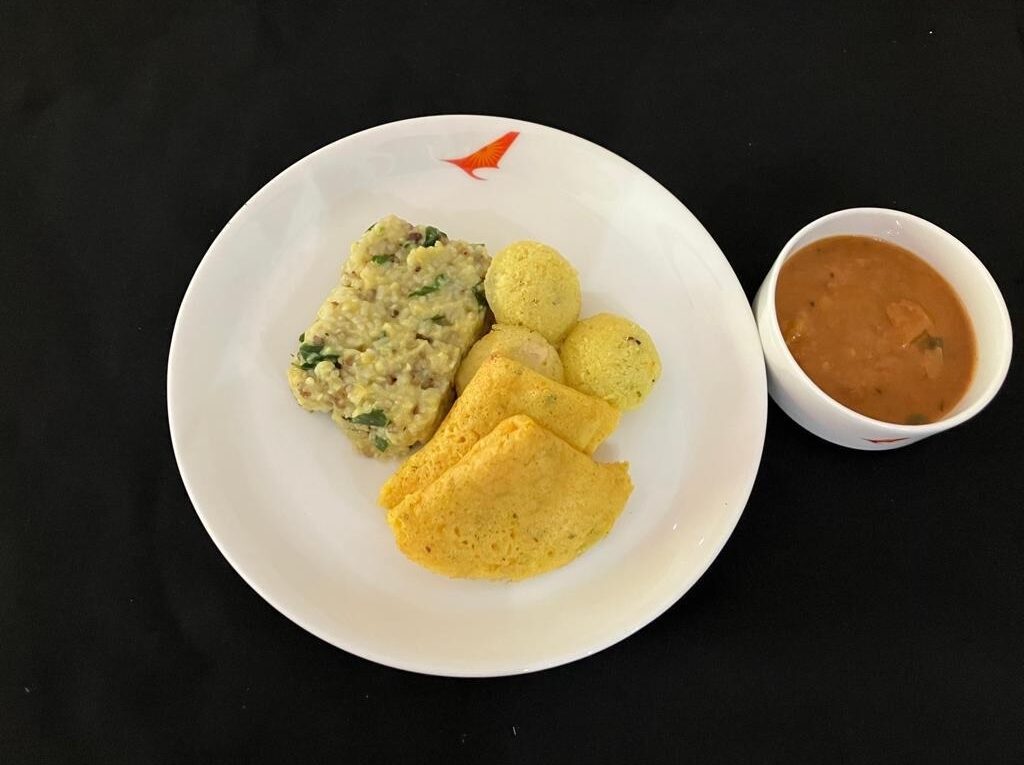 Air India unveiled 'Vihaan.AI' last month, a comprehensive transformation plan with a detailed five-year road map under which the airline aims to have a 30% domestic market share and significantly strengthen its international operations.
Meanwhile, Vistara, a joint venture of Tatas and Singapore Airlines, began offering live television channels on its Dreamliner aircraft on October 1.