Air India group (Air India and Air India Express) has flown over 2.5 Million passengers under the Vande Bharat Mission since 7th May 2020, said Air India on Monday.
India on 23rd March 2020 has suspended all international flights operation to curb the spread of the Coronavirus. Only special flights have been operating under the Vande Bharat mission since May 2020 and under air bubble arrangements since July 2020.
It must be noted here that the flag-carrier Air India has operated the most number of flights under the Vande Bharat Mission and repatriated over 2.5 Million passengers since the mission has started in May 2020.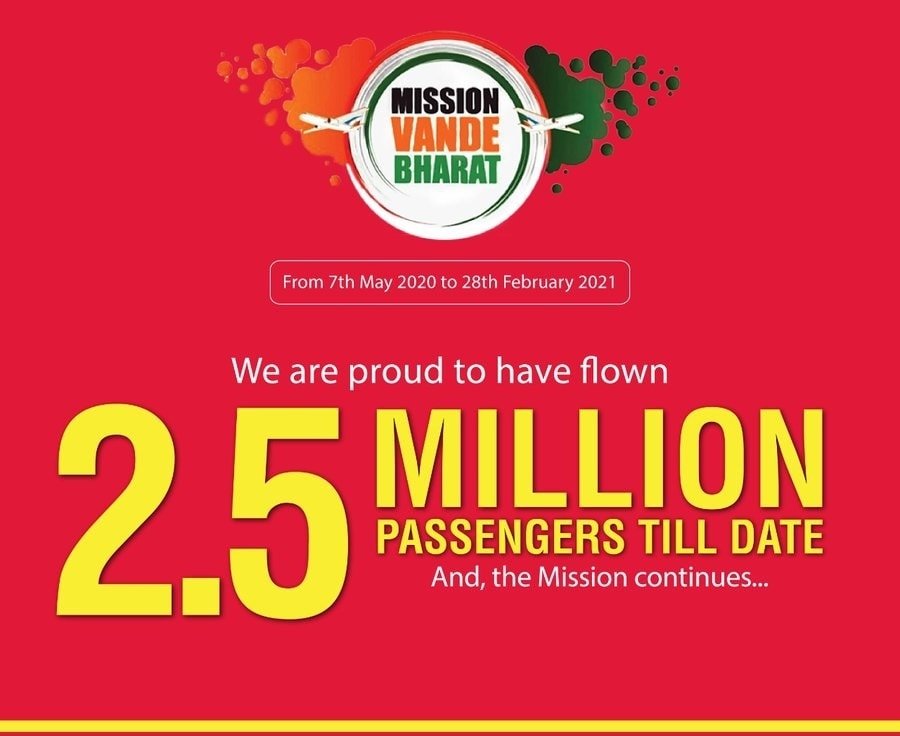 The Vande Bharat Mission is currently in its Phase 9+ and Air India has scheduled to operate over 178 flights in for March 2021.
The major destinations for Air India's Vande Bharat Mission flights in March 2021 include Colombo, Hong Kong, Kuwait, Rome, Singapore, Sydney, Tel Aviv, and Yangon.
Apart from Vande Bharat Mission, India has also formalized air bubble arrangements with a total of 27 countries which includes, Afghanistan, Bahrain, Bangladesh, Bhutan, Canada, Ethiopia, France, Germany, Iraq, Japan, Kenya, Kuwait, Maldives, Nepal, Netherlands, Nigeria, Oman, Qatar, Rwanda, Tanzania, United Arab Emirates, United Kingdom, Ukraine, and United States of America.
It is worth mentioning here that the Directorate General of Civil Aviation (DGCA) on 26th February announced that the ban on commercial flights to/from India will continue until March 31.
Also Read: Domestic Air Traffic Touches Highest Number of 3.13 Lakhs Since Resumption