Indian low-cost carrier, Air India Express on Tuesday informed that it has rescheduled, suspend, and rerouted many flights from Dammam, Saudi Arabia to India.
The airline in a series of tweets said it has rerouted IX 1386 which is scheduled to operate between Dammam to Kozhikode. The flight is now operated via Kochi on 09th and 16th June.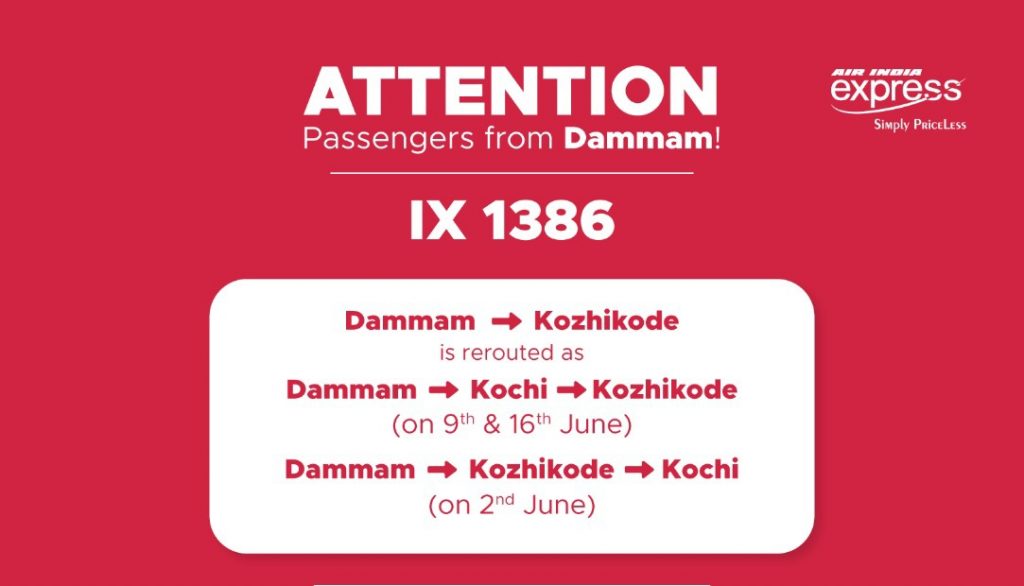 Similarly, passengers who booked on IX 1482 (Dammam-Kochi) on 1st, 8th,15th June are re-accommodated on IX 1386 on 2nd, 9th & 16th June respectively.
IX 1386 (Dammam-Kozhikode) of 4th & 11th June has been suspended.
These passengers will be re-accommodated on IX 1386 (Dammam-Kozhikode-Kochi) of 2′ June and on IX 1386(Dammam -Kochi-Kozhikode) of 9th June respectively.
Flight Schedule of Rerouted Flights
The re-routed schedule of IX 1386 (9th and 16th June) as follows;

Dammam to Kochi Departure: 2 PM Arrival: 9 PM
Kochi to Kozhikode Departure: 9:45 PM Arrival: 10:30 PM
The re-routed schedule of IX 1386 (2nd June) as follows:

Dammam to Kozhikode Departure: 2 PM Arrival: 08:55 PM
Kozhikode to Kochi Departure: 9:45 PM Arrival: 10:30 PM
Also Read: Sri Lanka Resume International Flights From Today, Travel From India Remain Suspended