Air Canada said on Monday that it will resume flights to Mumbai as its second destination in the crucial India market beginning in October 2022.
Moreover, in a bid to expand its international network the airline has also announced the addition of Bangkok, Thailand, the carrier's first non-stop service to South-East Asia.
Air Canada's seasonal flights to Mumbai will depart from Toronto via London Heathrow, while flights to Bangkok will depart from Vancouver International Airport. Both options are subject to final government approval.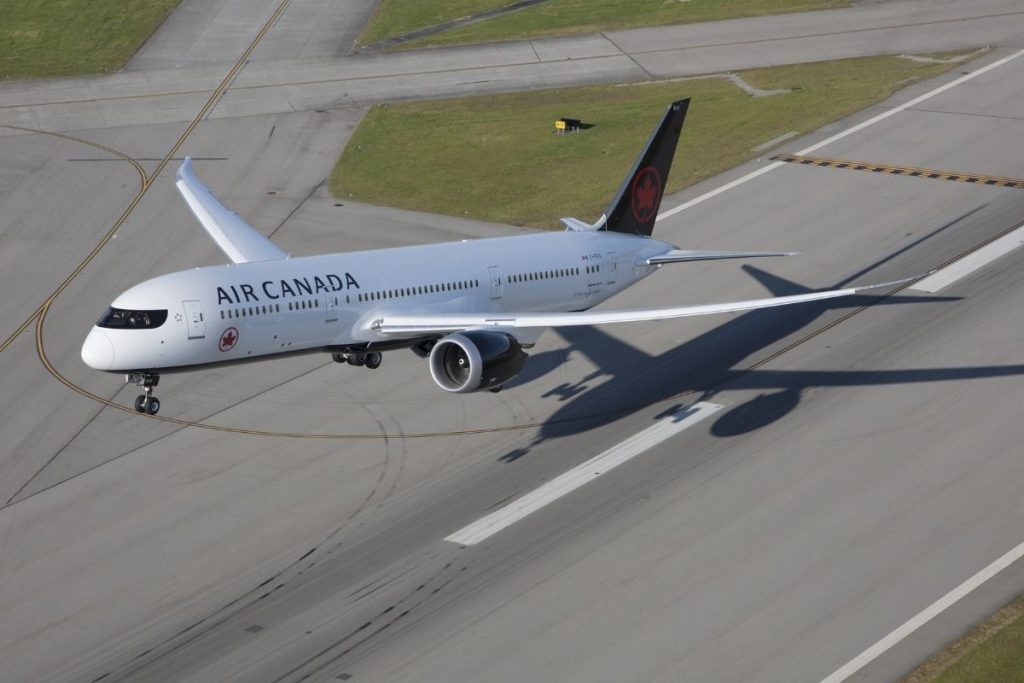 Air Canada Flights To India
The scheduled flights between Toronto and Mumbai via London-Heathrow will be operated by Boeing 787 Dreamliner aircraft, which will offer three cabins of service to customers, including lie-flat seats in Signature Class, Premium Economy, and Economy Class. With the launch of the Mumbai-Toronto service, Air Canada will now have four routes operating to/from India:
| | |
| --- | --- |
| Toronto-Mumbai | Seasonal daily flights resume Oct. 29 via London Heathrow |
| Toronto-Delhi | Daily flights remain year-round |
| Vancouver-Delhi | 3 weekly flights resume on Oct. 1, Outbound flight includes a technical stop in Dublin for operational purposes. |
| Montreal-Delhi | 3 weekly flights remain year-round |
Air Canada Mumbai-Toronto Flight Schedule
According to the airline, the daily flight between Mumbai and Toronto will be operated as seasonal flights for the winter schedule, which begins on October 29th and runs through March 26th. The following is a complete schedule of these fights:
Flight
From
To
Freq.
Departs
Arrives
Season
AC856
Toronto
London
Daily
20:30
08:30 +1
day
Oct. 29-
Mar. 24
London
Mumbai
Daily
11:10 +1 day
01:40 +2
days
AC855
Mumbai
London
Daily
04:50
09:20
Oct. 31-
Mar. 26
London
Toronto
Daily
12:00
14:55
Mark Galardo, Senior Vice President, Network Planning and Revenue Management, at Air Canada said;
"We are also excited to return to Mumbai, India's largest city and an important financial, commercial, and entertainment hub, complementing our 13 weekly flights from Canada to Delhi. Our Mumbai services are scheduled to operate with a stop in London Heathrow, offering connectivity to more than a dozen Air Canada and Star Alliance partner United Airlines flights between North America and London, as well as additional options for travel between the UK and India. The India market remains very important to Air Canada, and we are committed to resuming our currently paused non-stop services on Toronto-Mumbai and Vancouver-Delhi when circumstances allow."
Air Canada Flights To Bangkok, Thailand
Direct flights between Bangkok and Vancouver will be operated four days a week starting December 01st and will continue till April 17th 2023; The scheduled service between Vancouver and Bangkok will also be operated with Boeing 787 Dreamliner aircraft.
Flight
From
To
Freq
Departs
Arrives
Season
AC65
Vancouver
Bangkok
Mon,
Wed,
Fri, Sun
23:00
05:55 +2
days
Dec. 1 –
Apr. 14
AC66
Bangkok
Vancouver
Tue, Wed,
Fri, Sun
08:30
06:35
Dec. 4 –
Apr. 17
Air Canada Flights To South Pacific & Peru
Air Canada is bolstering its international winter offering to the South Pacific region with the return of seasonal service from Vancouver to Auckland, New Zealand, and additional flights to Sydney and Brisbane, Australia.
| | |
| --- | --- |
| Vancouver-Auckland | 3 flights weekly service resume Nov. 10, increasing to 5 flights weekly from Dec.-Mar. |
| Vancouver-Brisbane | Increases to 5 weekly flights in Dec. |
| Vancouver-Sydney | Increases to 10 weekly flights for Dec. and Jan. |
Air Canada is also re-establishing international services to South America with the resumption of routes from Montreal and Toronto to Lima, Peru on a seasonal basis.
| | |
| --- | --- |
| Toronto-Lima | Seasonal 2 weekly flights resume on Nov. 4 |
| Montreal-Lima | Seasonal 2 weekly flights resuming Oct. 30 |