Aeroflot, the flag carrier airline of Russia has recommenced the flight operation between Delhi and Moscow starting Friday, 06th April 2022.
It is worth noting that in March 2022, Aeroflot halted all its international flights due to additional circumstances that prevent the performance of flights.
Following the suspension of Aeroflot flights, Air India is the sole carrier operating regular flights between India and Russia since the war between Russia and Ukraine started. However, due to the enhanced threat perception in the midst of the Ukraine-Russia crisis, Air India cancelled its flights between Delhi and Moscow last month.
Aeroflot Resumes Delhi-Moscow Flight
Now, as the Aeroflot resumes its flight operation with India, both cities will now once again have direct connectivity.
Today, Aeroflot has flown its own 293-seater three-class configuration (business, premium economy, and economy) Airbus A330.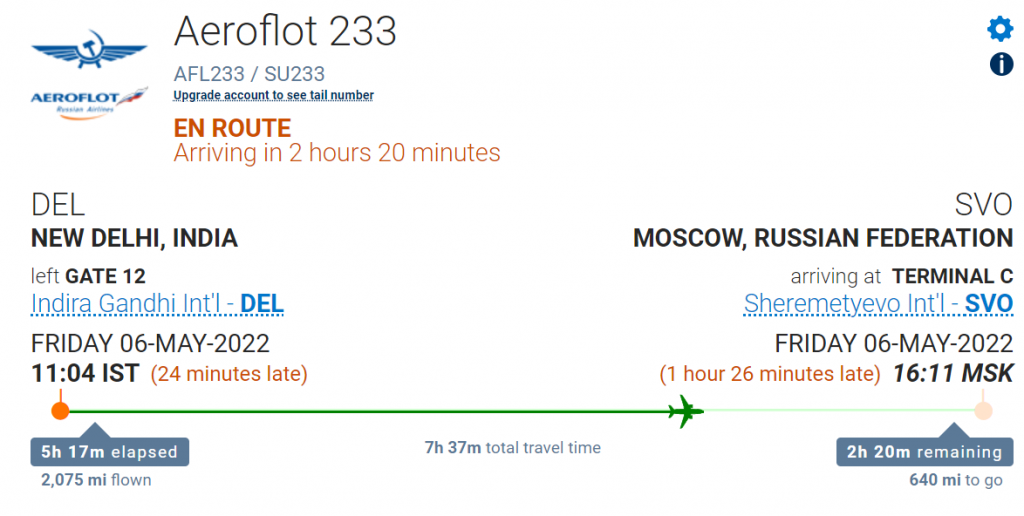 The flights between Delhi to Moscow will be operating twice a week, every Monday and Friday, the detailed schedule of the same will be as follow;
| | | | | |
| --- | --- | --- | --- | --- |
| Date | Departure | Arrival | Aircraft | Duration |
| Friday, 06-May-2022 | 11:04 IST – DEL | 16:11 – SVO | A333 | 7h 37m |
Delmos Aviation, which represents Aeroflot in India, stated that the lack of direct connectivity between India and Russia had led to critical pharma shipments being delayed.
"DG shipments, temperature-sensitive pharmaceuticals, and machine components were diverted through third countries, resulting in delays and price inflation, causing hardship to Indian exporters."
"The resumption of flights will boost the recovering tourist market in both countries. With lesser options available globally, India is looking forward to welcoming the huge number of Russian tourists this year," it added.
Delmos Aviation Director, Naveen Rao, said;
"It (resumption of direct flights) will ease the travel of students, business and leisure travellers. Passengers will be able to book tickets from Delmos Aviation.… We can assure passengers of… complete safety…. will help streamline cargo movement. Because of (direct flight) suspension, pharma companies were sending the crucial pharma supplies via longer routes. It was a time-consuming and expensive proposition for all."
Delmos also said that it is open to "accepting all special commodities (as cargo), including DG shipments. We will continue to cater and provide direct service to Moscow and connections to other Russian sectors and CIS destinations."
---
Follow and connect with us on Facebook, Twitter, Linkedin, Instagram and Google News For the latest travel news and updates!
---