Anyone looking to combine a city getaway with some beach time frequently travels to the UAE. There is more to the UAE than just the glamour; the country's desert and Hajar mountains are about the breathtaking beauty and adventurous sports, from 4 wheeling through a panorama of undulating dunes to the world's longest zipline over the craggy curves of Jebel Jais.
The desert in the UAE welcomes adventurers with open arms and offers a variety of sports like sandboarding, trekking, and driving a 4-wheel drive across the sandy terrain.
The Dubai Creek runs through the city, and the best way to see it is aboard one of the stunning "dhows" (traditional Arabic boats) or simply board one of the ablas (local ferries) that go between Bur Dubai and Deira. Just to enjoy the sight of bare mountains, take a road to the Hajar highlands.
The wadis (dry riverbeds or valleys) are excellent settings for trekking, climbing, and even bird viewing for nature lovers. Kayaking and mountain biking have recently gained popularity at the town of Hatta's most well-known Hajar mountain base, which is close to Hatta Lake.
Here are five adventure activities in the United Arab Emirates (UAE) that you should not miss.
5 Best Adventure Activities in UAE
1. Ziplining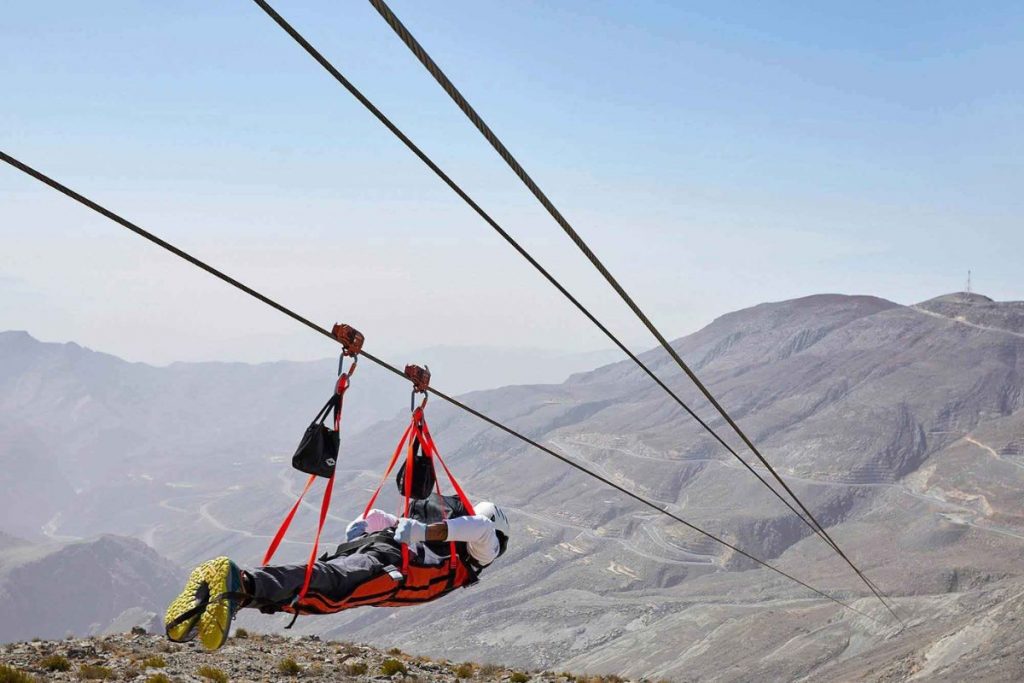 In addition to zipline Dubai, Jebel Jais in Ras Al Khaimah has the longest zipline in the world. In these three minutes of heart-pounding adventure, 1680 metres above the Arabian Gulf, glide through the jagged mountain peaks and zip through deep gorges, giving you a once-in-a-lifetime experience. Visitors receive a certificate and have their picture taken in front of the Jebel Jais Wall of Fame after a successful experience. Take advantage of the hassle-free hotel round-trip transfer service provided by Dubai.
2. Jet Ski Dubai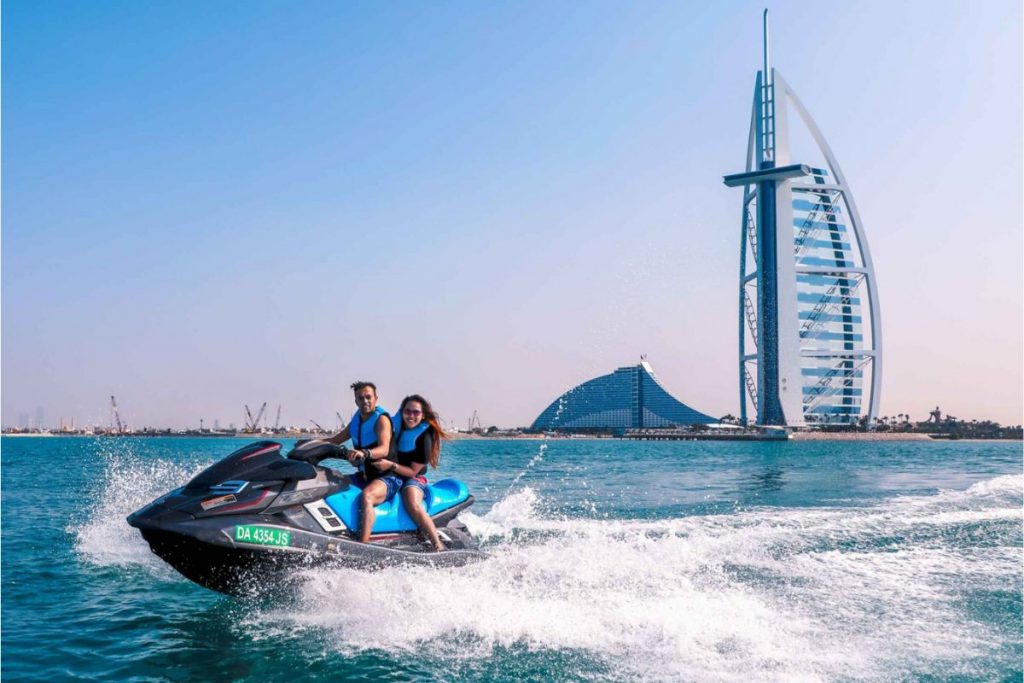 Riding a jet ski can be among the most enjoyable experiences of your life as long as you're wearing a life jacket and following the right precautions. If you don't want to try it alone the first time, you can ride with a friend. Going Jet Skiing in Dubai is a wonderful way to break up the occasional tedium in Dubai. Whether you live close by or you're planning a late trip, you could be looking for an alternative to your usual routine. Leave any dull moments and boredom behind by boarding a jet ski. Finally, since riding a jet ski is interesting, fun, and exhilarating, we suggest that you give it a try. You might exercise caution initially, however, once your initial journey is finished, believe us when we tell you'll want to come back for a second.
The greatest place to take your first or next jet ski ride is in Dubai. You will have a terrific time jet skiing in Dubai, and it will be some of the most fun you've ever had.
3. Hot Air Balloon
While on vacation, a hot air balloon flight above the UAE will provide you with amazing feelings. One of the most beautiful sights to enjoy from a balloon basket is a desert sunrise. This one-hour flight's sense of weightlessness and unbridled exhilaration cannot be paralleled to any other experience. The breathtaking sunrise and desert scenery of Dubai mesmerize the riders from the moment they take off. Beautiful photos and memories can be created thanks to the balloon flight's varied colours and landscapes.
4. Flyboarding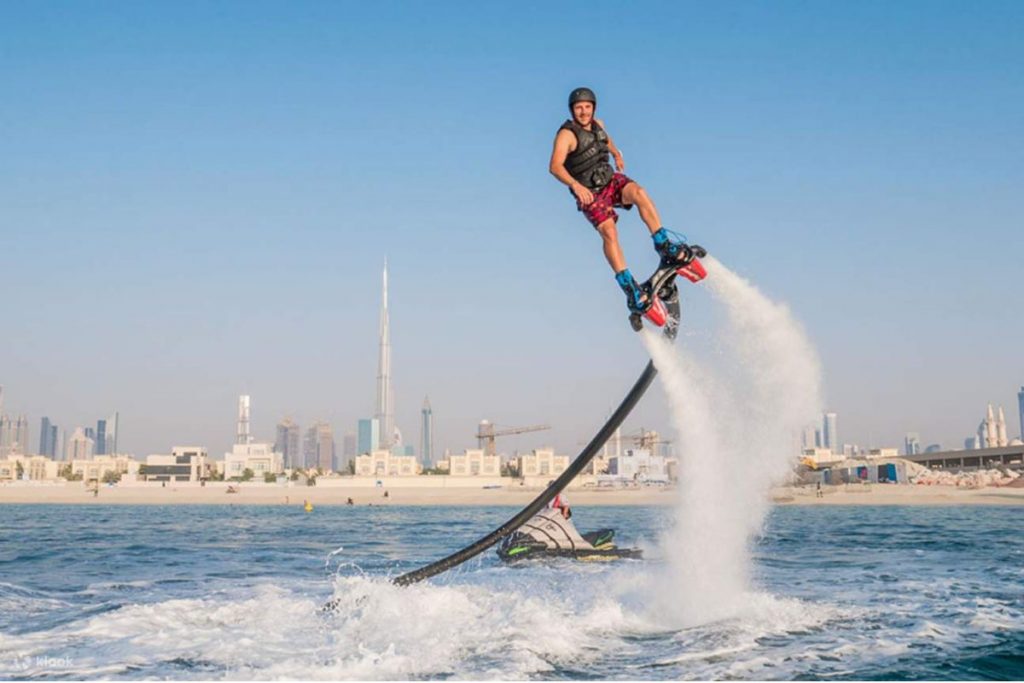 The most recent addition to the UAE adventure wish list is the use of floorboards and hoverboards. In addition to ziplining in Dubai, this is a memorable experience. With the Burj Al Arab serving as the backdrop, this 30-minute activity. The riders are propelled 10 meters into the air by a 60-foot-long hose that is attached to the board's centre and streams water into it. View Dubai's coastline in its entirety while learning tips and tactics from qualified instructors.
5. Parasailing
A bird's-eye view without the noisy buzz of an aeroplane. located immediately across from the Family Garden on the spotless Corniche Public Beach. While floating behind the boat, sailors are able to see the entire coastline and can feel comfortable and at ease. You will always remember this blissful, exhilarating 9-minute experience. The teachers will give a briefing and an orientation.