There are many things to see and do in Abu Dhabi. Besides being the capital of the United Arab Emirates (UAE), the city serves as a hub for various tourist attractions, ranging from family-centric destinations to thrilling hotspots.
But did you know that Abu Dhabi is also home to dozens of world record-holding items?
There's the most expensive license plate, most dominoes toppled in a circular field, the biggest pin back button, the largest umbrella, and so many others. You'll be surprised at the number of world records that were made in Abu Dhabi.
On top of all that, the UAE capital is also home to several destinations that earned official titles in the Guinness Book of World Records. Below are four ‌record-holding attractions you should consider visiting during your time in Abu Dhabi:
Abu Dhabi Attractions in the Guinness World Records
1. Formula Rossa: Fastest Roller Coaster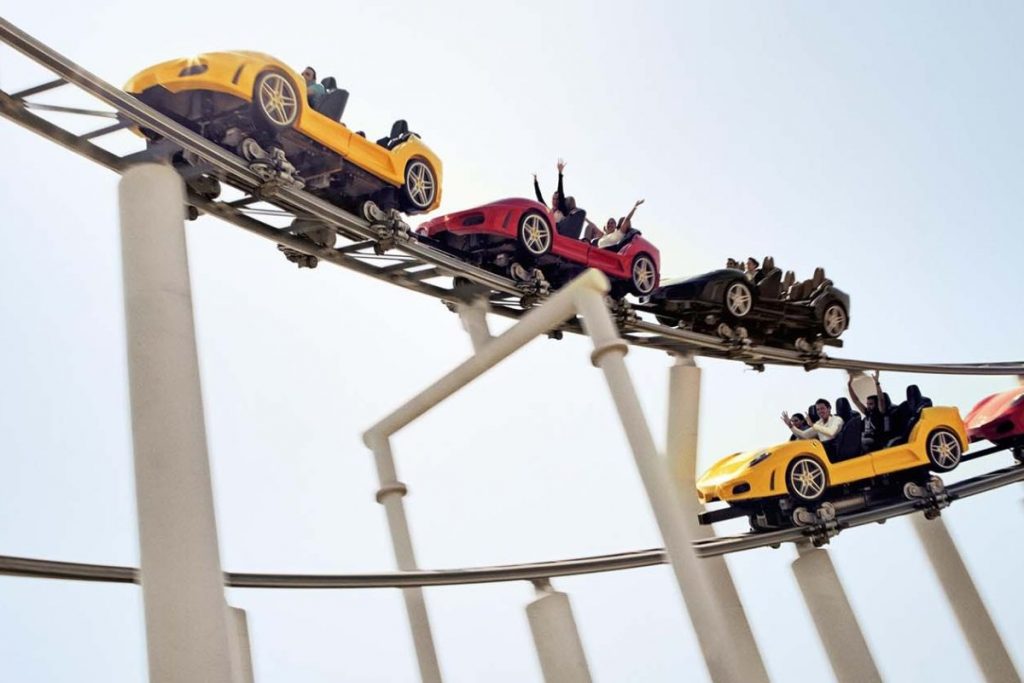 Reaching a top speed of 149.1 miles per hour in 4.9 seconds, the Formula Rossa became the fastest roller coaster in the world since it was first introduced in 2010.
As of February 2022, this roller coaster still holds the title, leading the star-studded pack that includes Kingda Ka (Six Flags Great Adventure, USA), Top Thrill Dragster (Cedar Point, USA), and Red Force (Ferrari Land, Spain).
How to Get There
If you want to experience the rapid speeds of Formula Rossa, head straight to Ferrari World Abu Dhabi. Located on Yas Island, this Ferrari-branded theme park is 50 minutes away from Dubai if you travel by car.
You can also take advantage of complimentary shuttle rides to Yas Island from Dubai and Abu Dhabi. Just check their current routes via the official Yas Island website, show your e-vouchers upon boarding, and enjoy the ride until you arrive at your destination.
2. CLYMB Flight Chamber: Largest Indoor Skydiving Tunnel
Next on the list is the CLYMB flight chamber. Hailed as the largest indoor skydiving wind tunnel on the planet, it measures 32 feet wide and 104 feet tall.
Compared to the average 14-foot size of other skydiving tunnels, CLYMB definitely offers much more exciting experiences.
Aside from its size, the structure also has four times more flight power than others. Equipped with 16 fans (versus the standard four fans in others), this state-of-the-art flight chamber is like no other.
Interestingly, the wind tunnel is suitable for skydivers of all ages and skill levels.
CLYMB even offers memberships to the Junior Flying Club, a program that allows children up to 14 years old to learn the ropes of extreme sport.
This Abu Dhabi skydiving program for kids covers three months of lessons, which includes actual indoor flights (five per session, 20 in total) and safety training.
How to Get There
Like Formula Rossa in Ferrari World, CLYMB and the biggest indoor flight chamber can be found on Yas Island, Abu Dhabi. You can get there by:
Going south on Sheikh Zayed Road if you're coming from Dubai.
Driving along Maqtaa Bridge to the West Yas District if you're already in Abu Dhabi.
3. The SUMMYT™: Tallest Indoor Climbing Wall
Did you know ‌CLYMB holds not just one but two Guinness World Records?
Aside from the flight chamber, the adventure hub also garnered acclaim for its towering indoor climbing wall called The SUMMYT™.
Now dubbed as the world's tallest indoor artificial climbing wall, The SUMMYT is 138 feet high – an unprecedented height for a structure of its kind. Plus, it is fitted with 13 unique climbing routes, helping athletes and enthusiasts burn hundreds of calories and enjoy the experience at the same time.
Aside from being a record-breaking attraction, CLYMB's indoor climbing array also includes four other walls, each designed to challenge different skill levels.
Like the indoor skydiving chamber, the climbing walls also cater to beginners and youngsters. But before they can begin their ascent, everyone is taught safety measures and proper climbing techniques by skilled training instructors.
Below are the four other climbing structures you'll find in CLYMB Abu Dhabi:
The Boulder – 9.8 feet tall, 187 feet wide
The Beginner – 18 feet tall
The Intermediate – 33 feet tall
The Advanced – 72 feet tall
4. Warner Bros. World: Largest Indoor Theme Park
Warner Bros. World Abu Dhabi joins Ferrari World among the world record-holding theme parks in the UAE capital. Acknowledged as the largest indoor theme park globally in 2019, the destination boasts a whopping 1.6 million square feet of land area.
Aside from this impressive feat, the amusement park is also famous for bringing childhood dreams to life – those that involve meeting superheroes and cartoon characters, at least.
When you visit the park, expect to see familiar characters from DC Comics, Looney Tunes, Hanna-Barbera, and other franchises. If you have a few favourites you'd like to see, you can plan your itinerary around the six "lands" of Warner Bros. World, namely:
Metropolis
Gotham City
Bedrock
Dynamite Gulch
Cartoon Junction
Warner Bros. Plaza
Each section caters to a specific group of characters and themes, like a theme park within a bigger theme park.
For example, if you're a fan of the Dark Knight and want to witness (and possibly help) him fight crime, head straight to Gotham City. There, you can try becoming a test pilot of the ultimate urban patrol vehicle in Batman: Knight Flight, take on mental and physical challenges in The Joker Funhouse, and many more.
How to Get There
Warner Bros. World is located near Ferrari World Abu Dhabi. You only need to use the same directions to get to Yas Island and follow the signs that point to the specific theme park you wish to visit.
Free shuttle services are also available for Yas Island visitors. These can get you anywhere on the island, but be sure to check their route and schedules for the day before you go there.
Enjoy Abu Dhabi to the Fullest
Record-breaking or not, attractions in Abu Dhabi are definitely worth trying at least once in your lifetime.
Though not officially noted in the book of world records, Liwa Loop (Yas Waterworld's fastest waterslide), Flying Aces (the Ferrari World roller coaster with the steepest incline), and many others are equally thrilling and worth trying out.
Make sure you tick all these off your bucket list and enjoy the UAE capital fully.