We all wish to start our year the best way possible and also according to a common belief if you have a great start to your year then throughout the year, greatness follows. And what else can be better than traveling? Choosing a destination can be tough though, but we have you covered by jotting down the best January places to visit in India. Happy Travelling!
Here is a list of the Best Places to Visit in January
1. Chadar Trek, Ladakh
If you really want to start your year with a true high, then Chadar Trek is one of the best January places to visit in India for you as it is one of the most unique, thrilling and challenging trek, the best part of which is during January-February only.
From walking on the thick sheets of snow and frozen Zanskar river to feeling the chilly piercing wind and the breathtaking views of the Himalayan ranges, the Chadar trek is an experience of a lifetime.
How to reach Chadar trek: Nearest airport Leh airport, Nearest railway station Banihal railway station is 167kms, Roadways is the best option to reach
Main attractions of Chadar trek:

Scenic beauty
Tibb
Frozen Zanskar River
The monastery at the end of the trek
What to do in Chadar trek:

Trekking
Photography
Camping
Main delicacies of Chadar trek:

Well, whatever the least and the best you can carry
Temperature range of Chadar trek in January: High -5°C, Low -25°C
2. Ranikhet, Uttarakhand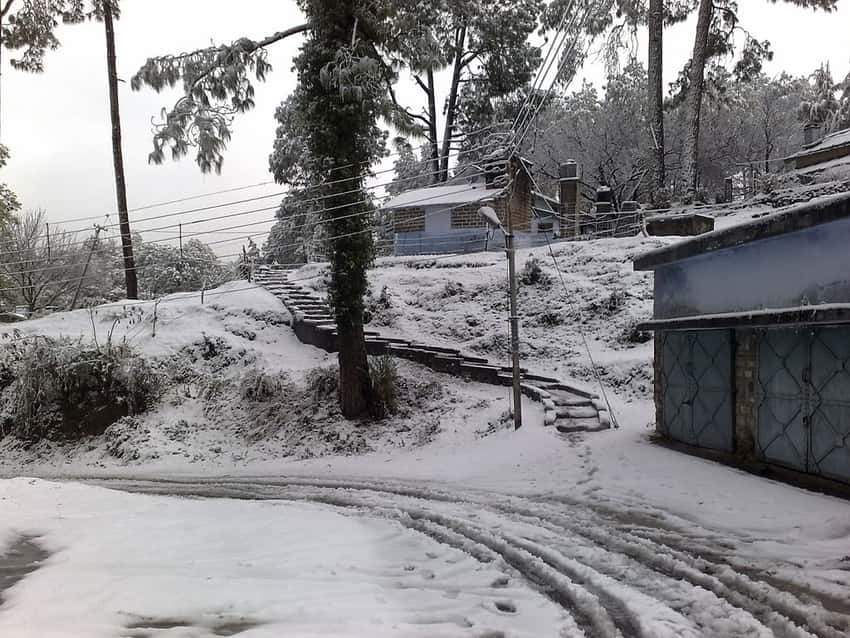 Translating to the "Queen's Land", Ranikhet stays completely true to its name. The very less explored mesmerizing place is full of mysteries which you will never be able to solve in just one visit.
Hiking on the narrow paths created by the locals, spending time with them knowing their culture over a cup of hot authentic tea, soaking in the scenic beauty and obviously the tourist spots will just leave you in an awe of it forever.
How to reach Ranikhet: Nearest airport Pantnagar airport is 110kms, Nearest railway station Kathgodam railway station is 60kms
Main attractions of Ranikhet:

Bhalu dam
Ranikhet golf course
Chaubatia Orchards
Gandhi Kuti
Katarmal Sun Temple
Haidakhan Temple
What to do in Ranikhet:

Walkthrough Chaubatia orchards
Sightseeing
Have a fun time at Ashiyana park
Visit Majkhali to get a stunning Himalayan view
Paragliding
Zorbing
Zip-lining at Naukunchiatal
Shop at the local market
Main delicacies of Ranikhet:
Temperature range of Ranikhet in January: High 11°C, Low 2°C
3. Jim Corbett, Uttarakhand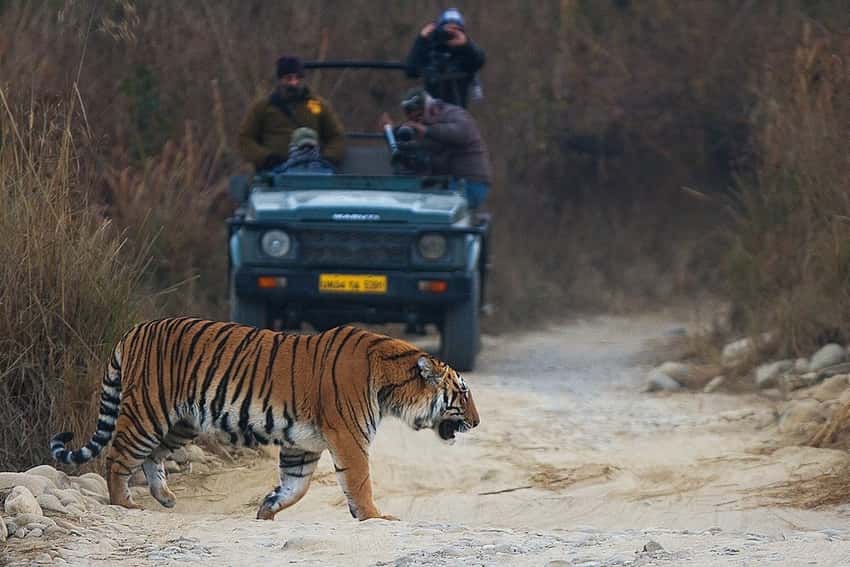 One of the most famous national parks in India, Jim Corbett National Park is one of the best January places to visit in India in January as it is the best time to spot the maximum wildlife like Tiger, Himalayan black bears, sloth, yellow-throated martens and a lot more in the total wilderness and the dense forests by the exciting Jeep Safaris.
So if you are planning a family vacation or you are a wildlife photography lover then you can't get anything better than this. There are also plenty of resorts in and near the national park for you to spend your vacation in tranquillity and make it a pleasant and memorable one.
How to reach Jim Corbett: Nearest airport Pantnagar airport is 82kms, Nearest railway station Ramnagar railway station is just 1km
Main attractions of Jim Corbett:

Corbett Tiger reserve
Bijrani zone Corbett National park
Corbett falls
Garjiya Devi temple
What to do in Jim Corbett:

Wildlife photography
Unwind at resorts in the lap of nature
Jeep safaris
Main delicacies of Jim Corbett:

Bhatt ki churkhani
Palak ka kappa
Rus
Arsa
Aloo ke gutke
Bhaang ki khatai
Sisunak saag
Temperature range of Jim Corbett in January: High 20°C, Low -2°C
4. Khajuraho, Madhya Pradesh
A UNESCO world heritage site, Khajuraho is home to around 90 Hindu and Jain temples are a fine representation of Nagara style architecture and are quite famous for their erotic sculptures.
So if the history and architecture intrigue you and you are looking for the same in your vacation this prominent heritage site is one of the best January places to visit in India.
How to reach Khajuraho: Khajuraho has its own airport and railway station
Main attractions of Khajuraho:

All the temples as much as you can visit
What to do in Khajuraho:

Photography
Temple visits
Pilgrimage tour
Main delicacies of Khajuraho:

Korma
Rogan josh
Mutton kebabs
Chicken biryani
Kheema
Sabudana khichdi
Moong dal halwa
Jalebi
Poha
Cashew barfi
Bafla
Kusli
Lavang lata
Temperature range of Khajuraho in January: High 24°C, Low 8°C
5. Jaipur, Rajasthan
The capital city of Rajasthan, also known as "The Pink City", Jaipur is one of the best cities in India with its impeccable beauty, rich cultural values and an enchanting history.
The forts, heritage sites, local areas of Jaipur are just incomparable and what adds to the beauty of Jaipur in January is the Jaipur Literature Festival, a festival solely dedicated to literature and books, such festivals are rare and if you are a literature enthusiast then you don't want to miss this at any cost.
How to reach Jaipur: Jaipur has its own airport and railway station
Main attractions of Jaipur:

Amber Palace
Hawa Mahal
Jantar Mantar
City Palace
Jal Mahal
Nahargarh fort
Birla Mandir
What to do in Jaipur:

Attend Literature Festival

Cycling at Nahargarh fort
Village jeep safari
Shop till you drop
Hot Air Balloon ride
Visit elephantastic
Visit Chokidhani
Sightseeing
Main delicacies of Jaipur:

Pyaaz kachori
Rabdi Ghevar
Mirchi Wada
Rajasthani thali
Dal baati churma
Ker sangri
Gatte ki sabzi
Gajak
Lal maans
Rajasthani kadi
Laapsi
Baajre ki khichdi
Chokhani kheer
Temperature range of Jaipur in January: High 22°C, Low 8°C
6. Diu
It's Festa De Diu time! Festa De Diu is Asia's longest beach festival which is hosted by Diu in the month of January which undoubtedly makes Diu one of the best January places to visit in India.
Diu has always been a major attraction to those seeking a beach vacation but with a little less crowd but the scenario of Diu is a bit different during the festival but still, the calm atmosphere, the soothing vibe, and the quality beaches pull you like gravity and you can't stop falling for it.
How to reach Diu: Diu has its own airport, Nearest railway station Una railway station is 12kms away
Main attractions of Diu:

Diu Fort
Saint Paul's church
Naida caves
INS Khukri Memorial
Gangeshwar Mahadev
Pani Kotha
Nagao Beach
Shell museum
What to do in Diu:

Relax at beaches
Cave hopping
Attend Festa De Diu
Bonfire on the beach
Water sports
Main delicacies of Diu:

Portuguese cuisine
Parsi cuisine
Temperature range of Diu in January: High 27°C, Low 17°C
7. Munnar, Kerala
Probably the most ideal hill station you can find in India, Munnar, and also our personal favorite. Sitting in the lap of the Western Ghats in the state of Kerala, the tea gardens, the colloquial peaks, and the lush greenery will have a significant charm on you.
The exotic weather and the scenic beauty here are just unparalleled, you can go trekking, hiking, rock climbing, rappelling, find some hidden waterfalls and this vacation will stay with you forever.
How to reach Munnar: Nearest airport Cochin International airport is 106kms, Nearest railway station Aluva railway station is 105kms
Main attractions of Munnar:

Mattupetty dam
Anamudi
Attukad waterfalls
Kolukkumalai tea plantation
Chokramudi peak
Blossom international park
What to do in Munnar:

Trekking
Camping
Sightseeing
Spot endangered Nilgiri Tahr
Mountain biking
Rock climbing
Water sports
Elephant safari
Explore tea museums and plantations
Street shopping
Ayurvedic spa
Watch Kathakali and kalarippayattu
Main delicacies of Munnar:

Appam with stew
Idiyappam with Egg curry
Puttu and kadal curry
Nadan Kozhi varuthathu
Kerala prawn curry
Beef fry and Malabar Parotta
Ari pathri and chicken curry
Temperature range of Munnar in January: High 22°C, Low 12°C
8. Mamallapuram-Madurai, Tamil Nadu
South India never fails to draw your attention when it comes to the cultural values.
Tamil Nadu just comes alive during January as Mamallapuram hosts the Mamallapuram Dance Festival, an absolute delight to the culture lovers.
Madurai hosts the Float Festival with the rangolis soothing your eyes and the chanting of mantras just purifying the atmosphere and also with Pongal falling around the same time, Mamallapuram-Madurai is the best January places to visit in India if you are looking for a divine trip.
How to reach Mamallapuram-Madurai: Nearest airport to Mamallapuram, Chennai airport is 54kms, Nearest railway station to Mamallapuram, Chengalpattu railway station is 29kms, Madurai has its own airport and railway station
Main attractions of Mamallapuram-Madurai:

Descent of the Ganges
Tiger caves
Samanar hills
Gandhi museum
Meenakshi temple
Panch rathas
Shore temples
What to do in Mamallapuram-Madurai:

Watch crocodiles in their natural habitat
Ayurvedic spa
Sightseeing
Explore the lighthouse
Surfing
Move Krishna's butterball
Main delicacies of Mamallapuram-Madurai:

Kothu parotta
Kothu parotta
Idiyappam kurma
Puliyodharai
Aviyal
Idly
Dosa
Bun parotta
Jigarthanda
Paruthi paal
Temperature range of Mamallapuram-Madurai in January: High 29°C, Low 19°C
9. Kalimpong, West Bengal
If you are looking to get away from the hustle-bustle of the concrete jungle to unwind and a perfect winter place then heads straight away to this less discovered and a hidden gem of the east, Kalimpong.
The monasteries, little gompas, beautiful valleys, rivers, and the beauty will leave you asking for more. Kalimpong should top your list if you are looking for a cozy vacation.
How to reach Kalimpong: Nearest airport Bagdogra airport is 78kms, Nearest railway station Jalpaiguri railway station is 79kms
Main attractions of Kalimpong:

Phodong Monastery
Delo Park
Pine view nursery
Thongsa Gompa
Jang Dog Palriffo Brang Gompa
Tharpa Choeling Gompa
St. Theresa Catholic Church
Neora Valley National Park
What to do in Kalimpong:

River rafting in Teesta river
Explore colonial architecture at crockety
Shop at local Bazar
Visit the haunted morgan house
Visit Himalayan handmade paper industry
Sightseeing
Main delicacies of Kalimpong:

Momos
Thukpa
Mishti Doi
Churpee (must try)
Temperature range of Kalimpong in January: High 18°C, Low 6°C
10. Santiniketan, West Bengal
If you want to spend some peaceful time while exploring something unique and new then Santiniketan is one of the best January places to visit in India.
Referred to as the "Sweetest Place in India", this town belonged to the great Rabindranath Tagore himself and thus holds quite a significant heritage value. You are sure to experience calmness and feel the literature around you and also explore the Bengali culture a bit.
How to reach Santiniketan: Nearest airport Netaji Subhash Chandra Bose Airport, Kolkata is 164kms, Nearest railway station Bolpur railway station is just 3kms
Main attractions of Santiniketan:

The Rabindranath Bharathi Museum
Tagore house
Prakriti Bhavan
Udichi
Kala Bhavan
Amar kutir
Chhatimtala
What to do in Santiniketan:

Relax
Read books
Indulge yourself in literature
Main delicacies of Santiniketan:

Mishti Doi
Cham Cham
Bengali sweets
Temperature range of Santiniketan in January: High 25°C, Low 10°C
So, where are you planning to start your year at?
FAQs
What are the best places to visit in January?
1. North India
2. the British Virgin Islands
3. Dubai
4. Costa Rica
5. Tulum
Which hill station in India is best in January?
1. Gulmarg
2. Mussoorie
3. Ladakh
4. Lachung
5. Manali
Where should I travel in January 2021?
With many countries not allowing tourists, the best option you have to travel in January 2021 are Dubai and Maldives.
Where is a warm place to vacation in January?
1. Australia
2. Hawaii
3. Martinique
4. Havana
5. Dubai
Also Read: Best Places To Visit In India After The Coronavirus Pandemic