Winter is here! So what are you waiting for? Just pack your bags and get ready for a chilling winter trip. But you must be wondering, where should be your next winter destination. Therefore, we have got the most exciting and best places to visit in December in India.
Here is a list of the Best Places to Visit In December
1. Shillong, Meghalaya
Have you ever dreamt of visiting a river with water so clear that your boat seems to float in mid-air then Umngot river in a small village Dawki in Shillong will make your dream come true!
Shillong the capital of Meghalaya is also known as the music capital of India, so you definitely enjoy the music all year round along with the crystal clear lakes, wonderful waterfalls, museums, and some breathtaking mountain peaks, and obviously the exquisite December weather.
How to reach Shillong: Nearest airport and railway station in Guwahati is 195kms and 173kms respectively
Main attractions of Shillong: Wah Umngot, Byrdaw falls, Mawshun caves, Tamabila 0 points(India-Bangladesh border friendship gate), Umiam lake, Ward's Lake, Don Bosco Museum, Elephant falls, Spread Eagle falls, Laitkor peak, Golf course, Everliving museum
What to do in Shillong: Camping, hiking, explore the sacred forest at Mawphlang, visit Khasi tribal villages, buy oranges, catch a live music gig, snack on areca nut kwai with locals, road trips on bikes
Main delicacies of Shillong: Momos, Jalebis, Tungrymbai, Jadoh, Dohneiiong, Chowmein, pineapples, oranges, betel leaves, smoked meats, Dohkhlieh, Pukhlein
Temperature range of Shillong in December: High 18°C, Low 6°C
2. Kohima, Nagaland
Probably the best December places if you want to break the stereotypical travel destinations.
Kohima also hosts the very famous Hornbill festival(1st December to 10th December) during the same time where you can witness the traditional dance performances, folk songs, theatrical performances, bands from all over the country at the Hornbill rock festival and a lot more which will just leave you in an awe of the local culture and traditions.
And to add to all of the fun and excitement is the serenity and the beauty in the terms of atmosphere and views of the place.
How to reach Kohima: Nearest airport and railway station Dimapur is 75kms
Main attractions of Kohima: Kohima War cemetery, Dzukou valley, Japfu peak, Touphema village, Nagaland state museum, Naga heritage village, and Puliebadze, jotsoma
What to do in Kohima: Sightseeing, enjoy Hornbill festival, road trips on bike, relax and unwind
Main delicacies of Kohima: Bamboo shoot, Axone, Anishi, Samathu, Aikibeye, Chokibo and Akini, Zutho
Temperature range of Kohima in December: High 25°C, Low 8°C
3. Kaziranga National Park, Assam
If your inner adventurer wants to spot some wildlife then Kaziranga National Park is one of the best December places, because it gets flooded during the monsoon and the beginning of the winter is the best time with warm days and cold nights.
You can spot various species such as the most popular one-horned rhinoceros and tigers and others like flying squirrels, foxes, leopards, pelicans, hornbill, and countless other flora and fauna species. This can be a perfect family or photography trip.
How to reach Kaziranga: Nearest airport Jorhat airport is 97kms, nearest railway station Furkating railway station is 75kms
Main attractions of Kaziranga: Hoollongapar Gibbon Sanctuary, Orang National park, Pobitora National park, Addabarie Tea estate, Manas national park, Nameri national park, Dibru-Saikhowa national park
What to do in Kaziranga: Enjoy Elephant safari, take a customary jeep safari, bird watching, visit Kaziranga national orchid park, visit kakochang waterfall, visit tea estate, take a boat safari to watch endangered Gangetic dolphins, visit a local tribal village, photography
Main delicacies of Kaziranga: Omita Khar, Duck with kumura, Masor Tenga, Dhekia Xaak, Kol-Phool, Pani hamuk, Pitika, Doi-Chira, Pitha, Assamese thali
Temperature range of Kaziranga in December: High 25°C, Low 13°C
4. Auli, Uttarakhand
If you have ever thought of learning skiing or just do it for fun, then head right away to the best place in India, Auli to fulfill that. You can learn the adventure sport from December to January and participate in the National Skiing Competition in February, or you can do it for fun along with enjoying the snow-covered mountains, breathtaking views, lakes, and the locales making it one of the most adventurous December places.
How to reach Auli: Nearest airport Jolly Grant Airport, Dehradun is 188kms, nearest railway station Rishikesh railway station is 230kms
Main attractions of Auli: Joshimath, Auli ropeway, Chenab Lake, Auli artificial lake, Gorson Bugyal, Chattrakund, Kwani Bugyal, Narsingh temple
What to do in Auli: Skiing, Kuari pass trek, visit Nanda Devi national park, camping, hiking, ropeway ride, Auli Gorson trek, visit Trishul peak, shop at the local market, stroll around lakes, road trip on bikes
Main delicacies of Auli: Kachmauli, Bal mithai, Singhori, Garhwali cuisine, and of course tea, coffee, and instant noodles
Temperature range of Auli in December: High 10°C, Low 2°C
5. Thajiwas Glacier, Jammu and Kashmir
Located just 7 kilometers from Sonamarg, the unexplored Thajiwas Glacier is a sight to behold during the beginning of the snowfall in December, where you can also go for adventures like Sledge rides, snowboarding, and skiing.
You can always add other destinations to extend your Jammu and Kashmir trip because you don't get to visit paradise every day.
How to reach Thajiwas Glacier: Nearest airport Sheikh Ul-Alam International Airport, Srinagar is well connected; Srinagar is well connected by road. From Srinagar go to Sonamarg and hike up your way or hire a pony to reach Thajiwas.
Main attractions of Jammu and Kashmir: Patnitop, Pahalgam, Sonamarg, Gulmarg, Nubra valley, Lamayuru, Hemis, Sanasar, Dachigam National Park, Kargil, Khilanmarg, Baltal, Aru valley, Suru basin, Kashmir great lakes trek, Tarsar Marsar trek, Jammu
What to do in Jammu and Kashmir: Shikara ride, stay on a houseboat, sightseeing, shopping, fishing, trekking, mountaineering, mountain biking, visit monasteries, skiing, sled riding, snowboarding (This list can be endless)
Main delicacies of Jammu and Kashmir: Rogan Josh, Modur pulav, Matschgand, Yakhni, Dum Olav, Kashmiri Muji Gaad, Aab Gosht, Goshtaba, Lyodur Tschaman
Temperature range of Jammu and Kashmir in December: High 11°C, Low -8°C
6. Goa
Goa is on! The party capital of India comes to its full glory in the month of December and hence is one of the best December places to visit in India
Goa literally goes mad starting from the feast of St. Francis Xavier to the Christmas and New year celebrations, Sunburn festival and the carnivals, the shimmering gold sand in your feet to dining in the shacks, the wild casinos to the cultural heritages. You can not get a crazier vacation than this ever.
How to reach Goa: Goa has a well-connected airport, railway station and roadway.
Main attractions of Goa: The whole Goa in December
What to do in Goa: Water sports, Beach party on New Year's Eve, Christmas celebrations, shop at a flea/night markets, turtle nesting, relax at shacks, go crazy at casinos, explore goa on bikes, attend a headphone party at Palolem beach, buy cashew nuts
Main delicacies of Goa: Seafood, Bebinca, Perad, Kulkul, Sannas, Goan Khatkhate, Patolea, Sorak, Chicken Xacuti, Pork Vindaloo, Chicken Cafreal, Fonna kadi
Temperature range of Goa in December: High 30°C, Low 20°C
7. Rann of Kutch, Gujarat
An extravagant festival, the Rann Utsav (1st November 2020 to 28th February 2021) is hosted by the Rann of Kutch and there is no other best time to pay a visit than December.
You can see the white salt turn blue under the moonlight which seems to cast a spell on us. Staying in tents and indulging yourself in activities like stargazing, archery, chess, flamingo watching, bungee run basketball and a lot more is an experience of a lifetime making it one of the best December places.
How to reach Rann of Kutch: Nearest airport Bhuj airport is 70kms, the Nearest railway station is Kutch
Main attractions of Kutch: Aaina Mahal Palace, Kalo Dungar, Rann of Kutch, Mandvi beach, Harmirsar lake, Bhujio hill, Prag Mahal, Wild Ass Sanctuary, Swami Narayan Mandir
What to do in Kutch: Watch cultural heritage and performances, Jungle safari, Birdwatching, Sightseeing, Activities at Rann Utsav, Watch Rann of Kutch in the full moon, dress like locals, stay at Kutchi home, shop for traditional stuff
Main delicacies of Kutch: Kathiyawadi Thali, Kutchi Dabeli, Locho, Thepla, Lilva Kachori
Temperature range of Kutch in December: High 32°C, Low 8°C
8. Alleppey, Kerala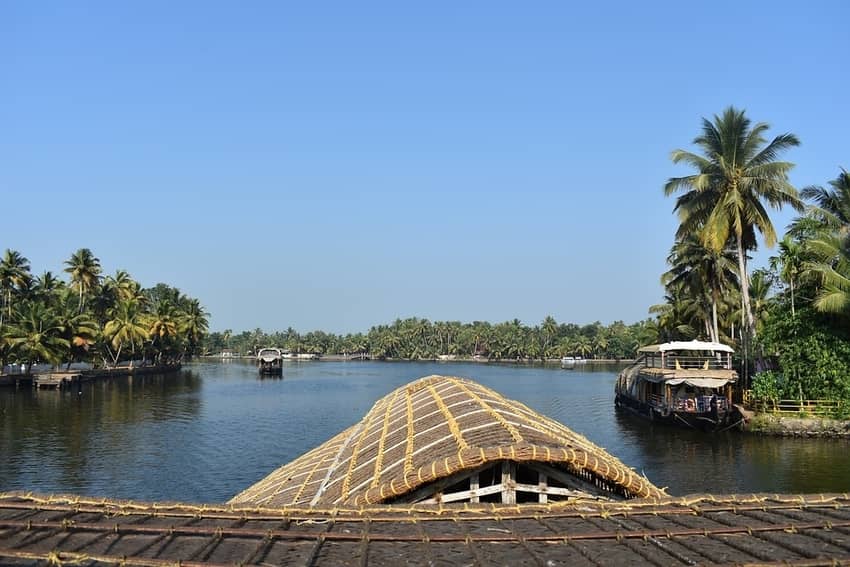 Often called the Venice of India, Alleppey is one of the best December places if you are looking to spend your vacation in the lap of nature. Bordered by the Laccadive sea, known for the enchanting palm-fringed canals referred to as the backwaters and the best houseboats, Alleppey if no less than a paradise with the magical touch of Kerala's culture.
How to reach Alleppey: Nearest airport Cochin International Airport is 82kms, Alleppey has its own railway station
Main attractions of Alleppey: Marari beach, Alapuzzha beach, Pathiramanal island, Punnamada lake, Alleppey lighthouse, Revi Karunakaran museum
What to do in Alleppey: Kayaking, rejuvenate with an Ayurvedic spa session, shopping, go for night walks with the music of backwaters in the background, try your hands on kalarippayattu, watch magical sunrise and sunsets
Main delicacies of Alleppey: Puttu and kadala, idli sambar, fried/grilled shrimp, Malabar biryani, idiyappam, ela ada, shappu meen curry, semiya payasam, kanji and payar, karimeen pollichathu, Pulissery, Kozhi Curry
Temperature range of Alleppey in December: High31°C, Low 20°C
9. Andaman and Nicobar Islands
The diversity of the Andaman and Nicobar Islands can not be just covered in a single trip. The huge varieties of flora and fauna, activities like snorkeling, scuba diving, water sports, experiencing the crystal clear water or the stunning coral reefs, visiting the indigenous tribe, or taking a ferry to the only active volcano of South Asia.
Andaman and Nicobar Islands are the perfect December places to have a memorable trip.
How to reach Andaman and Nicobar Islands: Port Blair has a well-connected airport, and is well connected by sea as well
Main attractions of Andaman and Nicobar Islands: Radhanagar beach, Mahatma Gandhi Marine national park, Chidiya Tapu Beach, Viper Island, Barren Island, Red skin island, Neil Island, Saddle peak, Campbell Bay national park, Guitar island, limestone cave baratang, white surf waterfall, elephant beach, Ross and Smith islands, Cellular jail, Jolly buoy island, anthropological museum, samudrika marine museum
What to do in Andaman and Nicobar Islands: Scuba diving, snorkeling, go on Andaman dolphin glass-bottom boat, Kayaking, visit the volcano on barren island, trekking, parasailing, sea plane ride, visit mud volcanoes at diglipur
Main delicacies of Andaman and Nicobar Islands: Fish curry, Chilli curry, Macher jhol, coconut prawn curry, seafood
Temperature range of Andaman and Nicobar Islands in December: High 29°C, Low 23°C
10. Auroville, Tamil Nadu and Pondicherry
It's the year-end and if you want to dump all your stress and just take a peaceful getaway then Auroville is one of the best December places to visit in India.
Representation of a human's aspiration for peace and goodwill and symbolism of human and unity, Sri Aurobindo Ashram is sure to suck out every negativity out of you and fill you with peace and calmness.
You can also take a trip to Pondicherry to enjoy the peaceful beaches and some delicious food. What else can be a better way to end a year!
How to reach Auroville: Nearest airport and railway station Puducherry(Pondicherry) is just 9.5kms and 9kms respectively
The main attraction of Auroville: Matrimandir, Savitri Bhavan, Sri Aurobindo Ashram, Auroville beach
What to do in Auroville: indulge yourself in various wellness activities at Arka, relax or work at the youth center, visit cinema Paradiso, heal yourself at the quiet healing center, perform yoga and meditation, volunteer for some activity
Main delicacies of Auroville: Multiple cafes and restaurants serve all kind of delicious food along with healthy food and organic food as well
Temperature range of Auroville in December: High 28°C, Low 21°C
So where you heading to end your year on a high note?
FAQs
Where should I go in December in India?
1. Shillong, Meghalaya
2. Auli, Uttarakhand
3. Goa
4. Kutch, Gujarat
5. Andaman and Nicobar Islands
What are the best places to visit in December?
1. Dubai
2. Phuket
3. Goa
4. The Maldives
5. Sydney
Where is the cheapest place to travel in December during Christmas?
1. Puerto Vallarta, Mexico
2. Montego Bay
3. Riviera Maya
4. Goa
5. San Juan
Where is hot in December short haul?
The Canary Islands and Australia are a great choice for short-haul sunshine.
Where is a warm place to vacation in December?
1. Cabo San Lucas
2. Australia
3. Havana
4. Hawaii
5. Palm Springs
Also Read: 10 Best Places in India To Adore The Beauty of Snowfall!